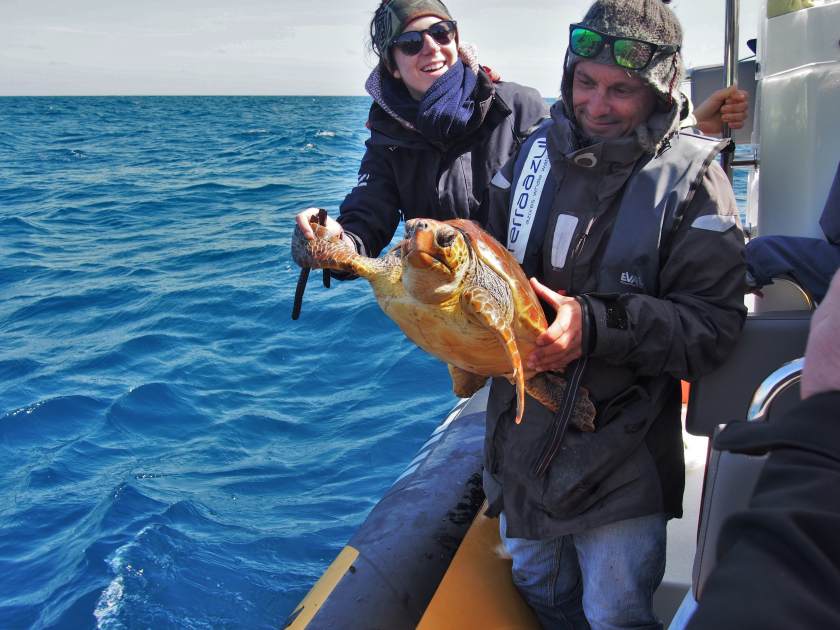 Yesterday we had a very special moment on our afternoon tour; after spending time with a great group of Bottlenose dolphins, we encountered 2 Loggerhead turtles near each other. Recently we have become a partner of COSTA (Consolidating Sea Turtle conservation in the Azores) with the purpose of contributing to the tagging of any of the 5 species of Sea Turtles that can be found in the Azores.
Since we have the advantage of being on the sea every day, encountering many turtles on our tours, and always willing to support to conservation, we made the agreement. Yesterday, our first turtle was caught with our hands, and tagged!
First we measured it – 46cm in length (excluding head and tail) then we clipped 1 metal tag in the 2nd plate of the left frontal flipper, and 1 metal tag in the right frontal flipper. Tags are always placed in the 2nd plate of the frontal flippers, as this is the largest and sturdiest one. Each tag has a code, specifically known to that individual.
Tagging is important, to understand more about origin, biology, distribution and movements of the different species. Since the beginning of the program, more than 4000 loggerhead turtles were tagged in the Azores, of which more than 50 have been recaptured. We also noted the GPS position of the capture moment, to know more about their migration distance if the same individual gets recaptured.
Afterwards, the turtle is slowly slided back into the water, to continue its life. The tags are estimated to stay on its flippers for more or less 2 years. Photos are taken by our friendly clients: Georges Dacosta and Elena Lamsodyte 🙂
If you are interested to know more about COSTA's turtle program, check them out here: http://costapopa.wixsite.com/costa/english