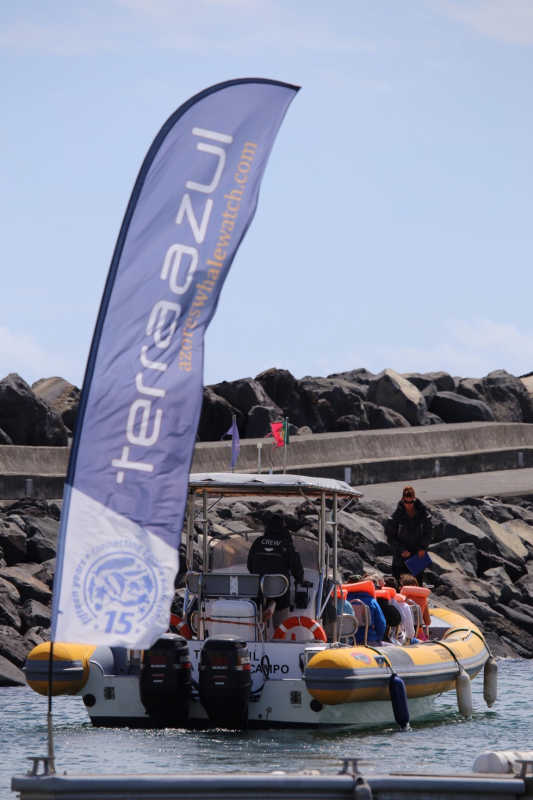 AUGUST wasn't easy for whale watchers and Terra Azul Team…
These past two weeks weather became unstable. Strong NE winds, substantial waves, limited visibility and showers lead to a lot of tours' cancelations.
Whale watchers, hungry to join dreamlike ocean eco/adventure tours were forced to schedule changes; clients waiting at the dock and rebooking, rebooking and rebooking. This was the hard daily routine of the front desk staff.
For our lookout-man (Vigia) Filipe sometimes the feeling was of complete desolation. Starting at 08:00 the search of whales and dolphins to inform via VHF our boat's captains before leaving the Marina and once in a while the only decision was to cancel tour. Safety first. Then going out to the ocean with the minimum guaranties of a quality whale watching tour!
His expensive, high-tech powerful binoculars simply were not enough for his tremendous challenge to find blows, bright shadows, marine bird activity and movements in a squally ocean surface. Most of the whale watchers don't realize how demanding this work is!
Even with poor conditions, taking advantage on the few «windows of opportunity», sightings were fantastic. Sperm Whales, False Killer Whales, Fin Whales, Common, Bottlenose, Spotted, Stripped and Risso's Dolphins.
In the end this is the paradox of whale watching: Nature is so blessing but sometimes it hides from the eyes of People showing it's glory in a selfish way. This is the reason why those two and half hours at the ocean, enjoying and learning marine life biology and behavior are so magical.
Let's hope SEPTEMBER is calmer. We deserve better weather and decent ocean conditions. We are always hoping to fulfill our Mission: to provide whale watchers many great opportunities to discover the wonderful world of the whales and dolphins. To make them realize how wonderful Nature is and Terra Azul's  individual responsibility to preserve Nature because «no one can LOVE something they don't understand!».
NOTE: By the way, HAPPY BIRTHDAY FILIPE (Vigia). It's a great pleasure to have you on the TA's Team. Hope you will guide us to many adventures and fantastic sightings!