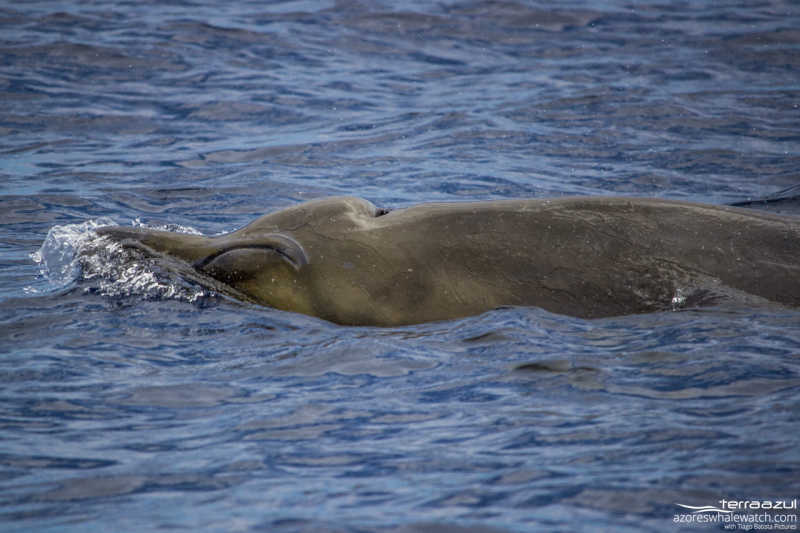 Today we are very happy to talk about a new scientific project!
Master student Eliette Hamard (from MARE-Madeira) is investigating the potential movements of Beaked Whales between different islands of Macaronesia (Azores, Madeira, Canary Islands, Cape Verde).
Terra Azul is supporting this project providing pictures usable for the photo-identification of individual whales. And guess what…we already found a female Blainville's beaked whale that has been re-sighted in different years on the South coast of São Miguel Island (check picture below)!  What an exciting beginning for this new collaboration!
Eliette Hamard explains: "As some cetacean species are seen in most of the Macaronesia region (e.g. Pilot whales, Globicephala macrorhynchus, recaptured between Madeira, Canary Islands, and the Azores), it is really interesting to see if we can observe the same individuals of Beaked Whales between the different archipelagos!

In Madeira, we already have a consequent photo-identification catalogue comprising 92 individuals. So that is why, with the help of collaborators from the different archipelagos, a comparison between their photographed individuals and our individuals will be done to  understand better the potential movements of beaked whales in Macaronesia!

We now know that Pilot Whales are travelling between Maderia and Azores Island, so maybe also some species of Beaked Whales are doing the same! "