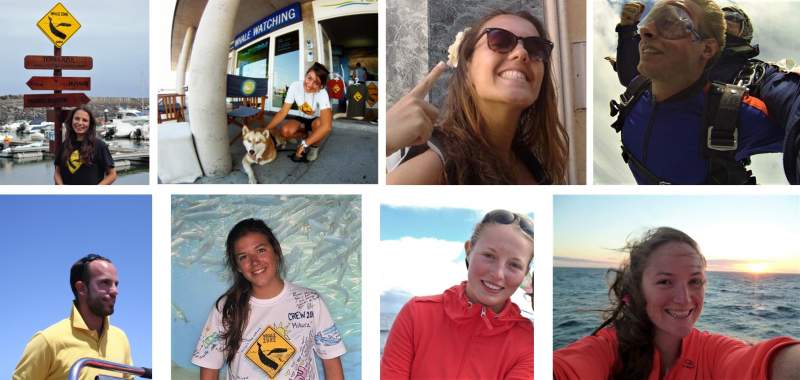 With hurricane Ophelia passing by São Miguel, all trips have been cancelled today. Stuck in the office we had time to go back to our memory albums and find some more stories of our past and present crew, going back all the way from 2001 until today. 16 years of sharing whales and dolphins with you – read our stories PART II below and check the previous PART I. Soon more stories will follow! 🙂
LIA LAPORTA
Year: 2009
Function: Biologist guide
Memory: My experience working at TerraAzul is almost ineffable! It was my first job as a marine biology student and my only regret is that it didn't last longer! The crew welcomed me as a family member, and I still consider them to be so. My dearest memory of those days was when we got to dive with Atlantic spotted dolphins (Stenella frontalis), and the pod was so at ease with our presence that the males spread out and we got to see the newborn calves at close – playing, nursing, and curiously coming towards us. Truly unforgettable!
NUNO CORREIA PIMENTEL
Year: 2009
Function: Skipper
Memory: One of the best memories I had from Terra Azul were two single and unique moments forever printed in my mind: a sperm whale calf "visiting" our boat (packed with whale watchers) and doing his "click click" as to say "Here I am watching you Humans!" and the second memory was the 16 breaches of a humpback whale 1 mile south of the Islet of Vila Franca on a foggy and rainy day. Terra Azul was and still is a place I will always want to come back to!
PAULA DÂMASO
Year: 2010/ 2011
Function: Office/ Reservations
Memory: I worked at Terra Azul in the summer of 2010 and 2011. My job was in the front office. The Terra Azul was a spectacular experience in my life, because I tested my abilities and responsibilities that I grew and learned, I witnessed moments of joy and adrenaline, I saw how I lived the passion and the dedication of a good work both on land and at sea, Satisfied clients who reflected on motivation and continuous improvement, met fantastic people and I still have contact with them today. The hours flew with such adventure! Everything was an occasion to join us and celebrate. A phenomenal team, a true family!
MILOU VAN MULKEN
Year: 2010/ 2011/ 2014/ 2015/ 2016/ 2017
Function: Biologist guide
Memory: There are so many incredible memories and I still continue to make new ones every day, will it be about the ocean and its whale and dolphins, or moments together with our family-like crew or clients. But one memory is just as clear as it was on the day itself, in a summerday of 2011. We went on a swimming with dolphins trip, and went in the water with one species that we normally don't swim with because they are extremely shy; Risso's dolphins. Somehow it was the best swim ever. Together with the clients I went down and about 25 Risso's dolphins swam in a line underneath us and all at the same time they lifted up their heads to look at us. So beautiful!
STEPHANIE SCHLOSSER
Year: 2012
Function: Guide
Memory: I spent two months working for Terra Azul in summer 2012. It was a very important time for me and I learned a lot! Especially my interests in marine biology and ecology and my love to the ocean developped more and more. The crew of TA is like a big family. So when I came back for holiday, I felt welcome again, even if it was already four years later.
TIM DE RUIJTER
Year: 2013
Function: Guide
Memory: I had done my internship at terra azul. During the internship, I was working as a guide and in my spare time I did a company assessment. I really liked the job and my crewmembers. Terra azul is a company were the crew is like a family. The memory which sticks the most to me is the memory of a "swimming with dolphins" trip. In this trip we came across a real large group of common dolphins. Everyone had seen at least 20 dolphins up close during their swim, except two. Every time the two, a mother and a boy, went into the water, the dolphins swim the other way. Finally I took the boy into the water without the mother and finally did he saw a large group too. I like to believe that the attitude of the mother was wrong and that the dolphins sensed it. That's why this was a remarkable trip.
MARYLOU FÉAT
Year: 2014/2015
Function: Biologist guide
Memory: The chance to be on one of Terra Azul boat is an amazing chance to discover the marine world!! No need to fly high or to dive deep down to feel the amazing hapiness that whales and dolphins can procure! One of my favorite time was to be in the water, quiet, and see dolphins passing close to us, hand to hand with kids ! Simply nature connection!
REBECCA GALVAN
Year: 2017
Function: Guide
Memory: Being part of Terra Azul is like entering into a family and finding a lot of new friends. It could be that I am the luckiest guide of all. On my first trip I had such great animals! First we saw a group of common dolphins, that were socialising around our boat. Afterwards we headed up to the next species: What a surprise! There was a group of orcas – it consisted of males, females and also a calve. A long dream came true! This shouldn't be end of the trip – on our way back we saw a blue whale and a fin whale traveling together. I will never forget that special day!