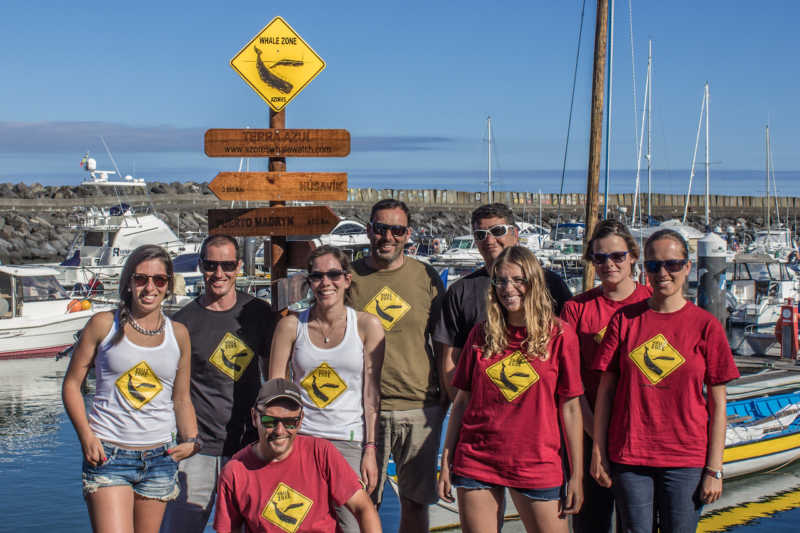 Every year, Terra Azul looks for volunteers to join our team. For the last 15 years we have had people from different places, backgrounds and cultures, making us a diverse and international team – which we are very proud of!
So that said, we are interested to receive students (or other volunteers) to join our TEAM. We are offering positions under the following conditions:
OUR OFFER: Free House (private room) + 50% of flight ticket
TO DO:
– Guide whale watching tours;
–  Hotel presentations to promote whale watching tours and marine life education;
–  Office work (bookings & information);
– Updating Blog and Facebook (editing information and photos).
PERIOD: Minimum 6 weeks. Maximum 6 months. From 1th May to 30th September.
PROFILE: Students and volunteers highly committed with the Ocean, Marine Wildlife and Nature. Specially designed for active people looking for adventure, knowledge and improving skills.
It is required a Basic Boat Licence (Competent Crew EU) and multi-language skills- English; German; Dutch; French and Spanish.
BENEFITS: Learn about cetaceans, the ocean and marine wildlife. Improve boat tours and ocean operations skills.  Improve guiding/wildlife education expertise and team work. Of course also to enjoy and experience the outstanding island nature, culture and Azorean lifestyle.
So if you think you fit this profile and the offer appeals to you, please get in touch with us! Send us an email to info@azoreswhalewatch.com with you CV and motivation letter!
Stay tuned for more updates on our tours! 🙂