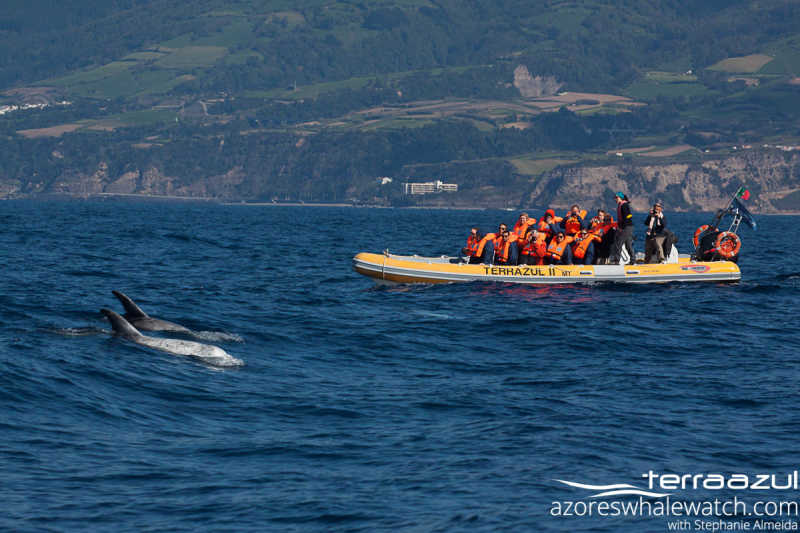 To be a Whale Watching Guide you don't need to be super extraordinary… You just have to be yourself: a simple enthusiastic mortal, passionate for nature and determined to link people to marine life and the Ocean!
On these past 15 seasons many different guides joined Terra Azul Team. From Portugal to Sweden, from Norway to Brazil, from Netherlands to France or Belgium, from America to Germany, Spain or Greece… and from Azores [of course!]. They all brought knowledge, energy, understanding and creativity to this company.
Under our moto "Connecting People to Nature", Terra Azul's perception to whale watching is delivering its client's unique and unforgettable experiences to discover the wonderful world of whales and dolphins of Azores.
On-board Guide's Mission is educating tourists about marine life, its biology and the ecosystem, including all features concerning research and conservation, all together in a singular and friendly atmosphere.
The key for that? Expectation managing and good communication! Its crucial comprising clients on their ocean adventure; realizing its not visiting a Zoo; providing consistent information and upright assistance during welcome and boat tour. These are basics competences of our Guides. This job is designed for human beings, not for machines…
Out there in the wild Ocean or in our relaxing Whale Watching Base the guides give their best every day making clients happy and more aware about Nature.
They share great moments with tourists, rather in calm or rough seas, windy or choppy waters, with more or less animals in the area… by the simple fact they know for some people, enjoying a whale or swim with wild dolphins in the open ocean, it's a dream of a life time!
Thank you all Terra Azul wonderful guides!