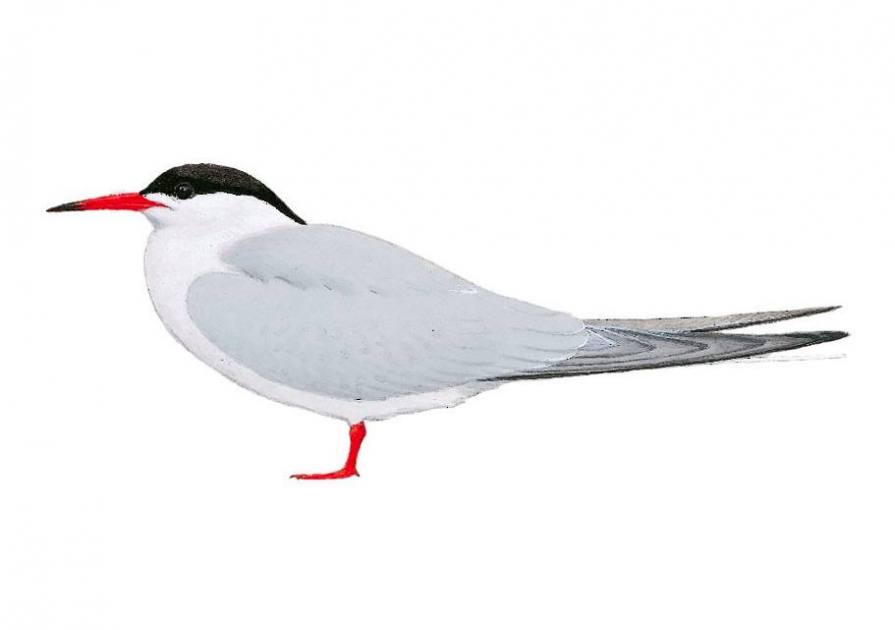 Common terns have long tails which have earned them the nickname 'sea-swallow'. That is, their Latin species name hirundo means swallow and refers to the tern's superficial likeness to that unrelated bird, which has a similar light build and long forked tail.
CHARACTERISTICS
Latin name: Sterna hirundo
Order: Charadriiformes
Family: Lariade
Length: 31-35 cm
Weight: 110-150 gr
Wingspan: 77-98 cm
IUCN Status: Least concern

Source: Map Lynx Edicions/BirdLife International
DESCRIPTION
Important: Birds species have different identifying features depending on sex, age and season.
Eye color: Black
Beak: Long thin orange-red beak, with black part on top of the bill
Leg color: Orange, red
Feather colors: Black, grey, white
Immature Common terns: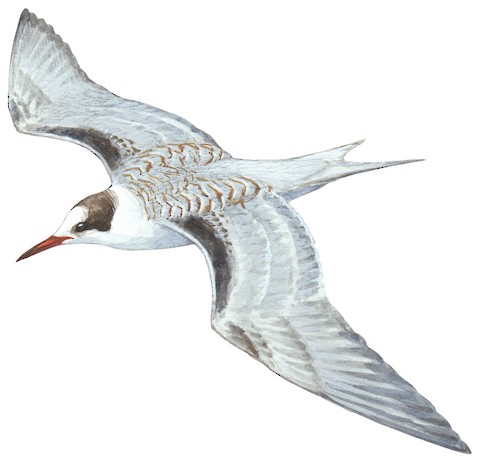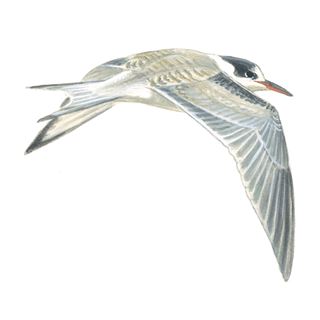 LIFE HISTORY
DIET
Common Terns mainly feed on small fish, crustaceans and insects. They take food almost exclusively while on the wing. They feed by plunge-diving, diving-to-surface, or contact-dipping.
REPRODUCTION
Common Terns nest on the ground, primarily in open areas with loose substrate, but with scattered vegetation or other cover that will be available for chicks to shelter in within the nesting territory. The reproduction takes place from April to August. The incubation of 2-3 eggs (creamy brown with some black patches) lasts at around 21-22 days. The juveniles will reach the fledgling stage, first flight, at around 25-26 days.
During the first 4 days after chick hatches, the female broods and/or attends the chicks about 70% of time during the day and 90% of time at night. The male broods and/or attends the chicks 40–50% of time during the day but only 10–20% of time at night. Adult Common Terns continue to feed their young for several months after fledging, on into fall migration.
VOCAL BEHAVIOR
Common terns have a wide repertoire of calls. All calls have a distinctive sharp, irritable timbre. They emit a kit very short and high and also some series of a staccato: kek-kek-kek-kek… very fast . The most distinctive sound is the alarm KEE-yah, stressed on the first syllable. They are often noisy in colonies and very territorial.
VIDEO
Illustration by Ian Willis.