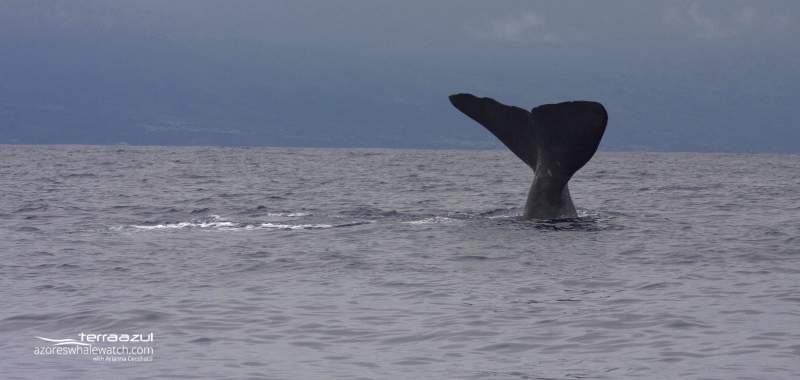 Our whole crew was out today and it was worth it 🙂
Out at the open ocean two Sperm whales were expecting us. As they were calmly resting, they were showing their beautiful backs. After a while the Sperm whales started to take shallow dives, so our clients converted to real whale watchers – observing the surface and waiting for the typical blow! In the afternoon a solitary male sperm whale was taking a deep dive showing its massive fluke.
We had also very enjoyable encounters with the dolphins. First a group of Common dolphin surrounded our boat and surfaced in synchronised swimming movements. From one second to the other they were changing their direction and started to travel with high jumps. Soon we were about to know why.
As we were following them, a small group of Atlantic spotted dolphins passed by – seems like that the Common dolphins were welcoming them and have been little bit curious.
Later we approached a big group of Atlantic spotted dolphins. As they swam in beautiful, playful movements we enjoyed a lot watching them. Maybe, they were doing people watching too!
We also met a nice group of bottlenose dolphins, which were slowly travelling towards West and swam with common and spotted dolphins and these latter were particularly sociable today 🙂
Stay tuned for our new adventures! 🙂