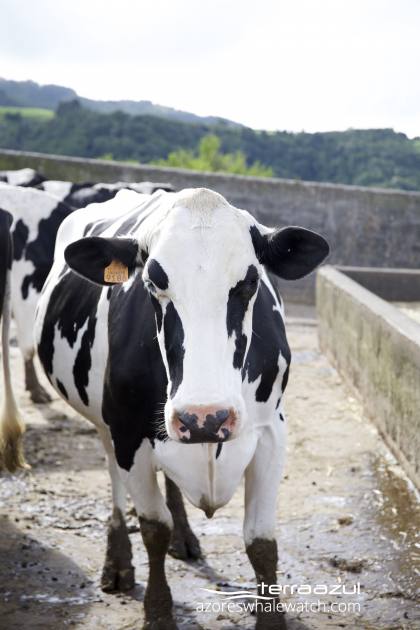 Azores is an amazing destination, that offers a diversity of activities and cultural history.
Our oceans are a jewel of diversity. But do you know what is the most sighted animal in São Miguel ?… Well it is our happy cows.
Milk in Azores is produced with the highest quality and sold all over Portugal. The hard work of a farmer is not for the faint hearted ones, having no holidays or days off. We had the pleasure to join local farmers- José and Luís on their daily life in the green land of Nordeste, the oldest volcanic area of São Miguel.
Cows were eating on the plains  the whole day and milked twice a day, once at sunrise and once at dawn. Producing 20 Liters of milk a day per cow, at the end of the day the milk produced will be collected and taken to the factory to be packaged and treated.
The cows we meet were sweet and well treated, they enjoyed the attention of our guides and skippers. We enjoyed observing our ungulate friends and were amazed as how cows and whales have a common ancestor in the evolutionary path that took place million of years ago.
We wanna thank José and Luís the lovely farmers from Nordeste that were kind enough to explain how the happy cows of Azores live.
We have great respect for the work they perform bringing fresh milk to our households every day!!!