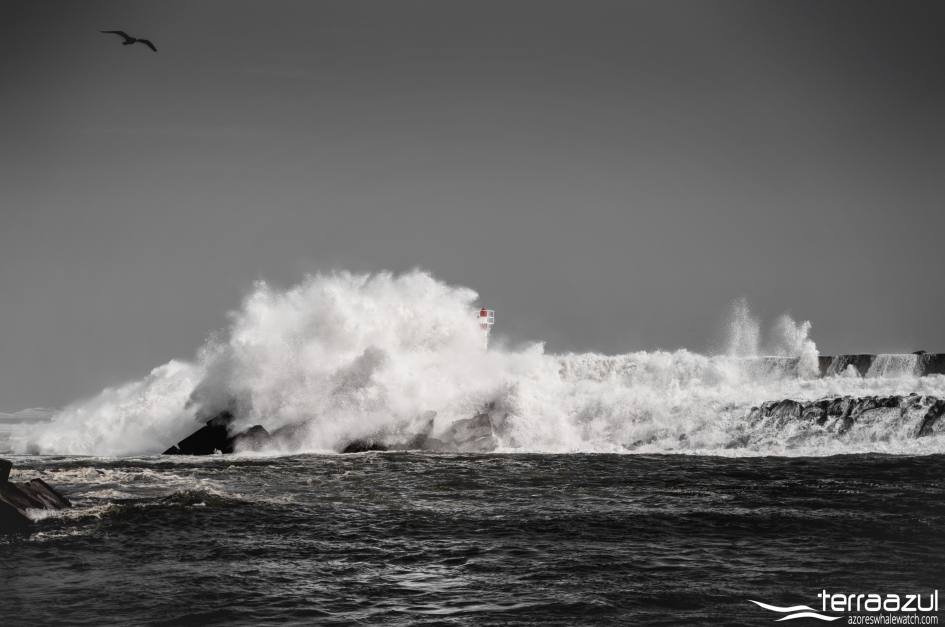 High waves crashing on the wavebreaker of the marina of Vila Franca do Campo, São Miguel Island – Photo credits: Paulina Kalita
Yesterday hurricane Lorenzo brought heavy rain, powerful winds and high waves to Azores Islands. Everyone was holding their breath during the day and took his precautions.
Lorenzo was previously a Category 5 hurricane and the strongest storm ever observed so far north and east in the Atlantic basin.
Category 5 hurricanes are tropical cyclones that reach Category 5 intensity on the Saffir-Simpson Hurricane Scale. They are by definition the strongest hurricanes that can form on planet Earth.
Lorenzo developed from a tropical wave that moved off the west coast of Africa, growing larger in size over the course of its development. It rapidly intensified into a Category 5 monster over the weekend, setting a record as the strongest hurricane to ever form that far north or east in the Atlantic basin. Luckily after the weekend it dwindled back down to a solid Category 1 storm when it hit the Azores Islands with winds of up to 90 mph.
At São Miguel Island things have not turn out so bad after all. Unfortunately there is a lot of damage on other islands. The most affected islands of the Azores archipelago were Flores, Corvo and Faial.