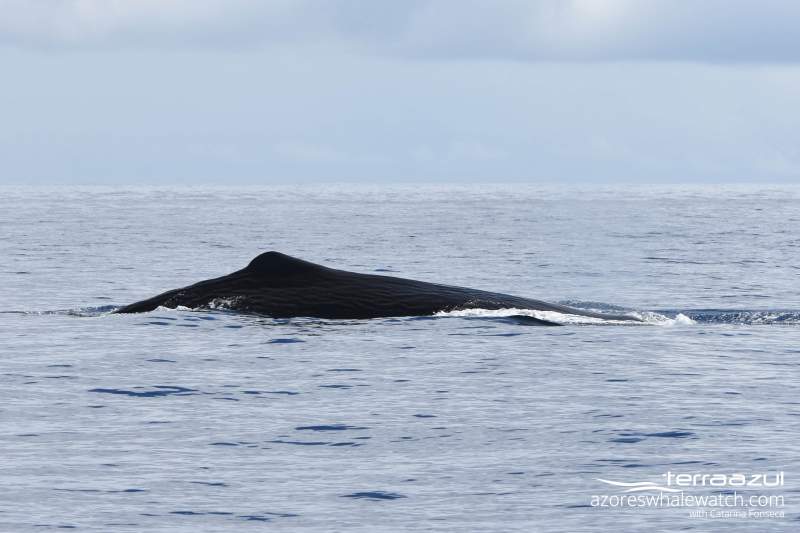 This morning there was a hot and sunny feeling hanging around the marina, with a calm sea waiting for us! Soon we went out far East to find a large male Sperm whale, but not before we made a quick stop for a small but dense group of Common dolphins that were just jumping around a bit. Though….we had to leave very soon to reach the whale in time! It was a bit hard because the Sperm whale was doing shallow dives all the time, so it was not a curious animal for us today, but nevertheless he showed its blowing head a couple of times for us. More about this large male Sperm whale below, because he was also seen in the afternoon.
Later on we found a huge group of about 80 Risso's dolphins with many calves. Today they were particularly kind to show themselves time after time with large numbers together and also showing very well their heads.
The afternoon started sunny and perfect for Whale Watching! 🙂 The Risso's dolphins agreed and a big group  – of about 20 adults and juveniles – allowed us to stay close to watch them play.
Most of the rest of the tour was spent playing hide-and-seek with the same male Sperm whale as the morning. However, he was very generous and came quite close to our boat a couple times 🙂
To finish the day we had a big tight group of Common dolphins that we could see for a short bit.
Would you like to join us on our next adventure? 🙂