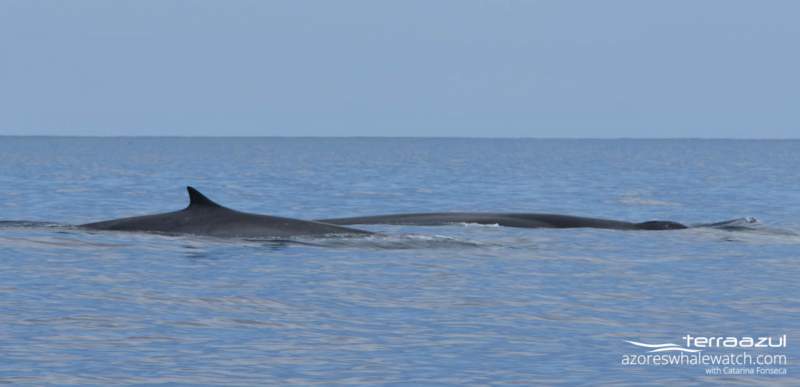 Today we had another amazing day at sea!
In the morning we went out with both our boats for a Whale Watching and a Swimming with Dolphins tour. As the name "swim with dolphins" suggests during such activity we focus our attention on dolphins, however surprises can happen 🙂 Today while we were in the middle of a large and spread out group of bottlenose dolphins a Sperm whale appeared at the surface. Since the bottlenose dolphins were staying mostly underwater and for this reason difficult to swim with, we waited to see the Sperm whale taking a deep dive and showing its fluke. Eventually we found a nice group of foraging Common dolphins to swim with 🙂
Together with the Swim with Dolphins tour, the whale watchers also got the chance to observe the young female Sperm whale spending some time at the surface before an elegant dive. However, the best was yet to come…
When Filipe said he spotted a baleen whale we never expected the sighting we had.. two fin whales were playing with each other, going around in circles and coming really close to the boat. At one point, while the engines were off, one of them surfaced 2 meters in front of the boat!!
fin whales are one of the most curious of the baleen whales and approach the boats, but seldom like today 😀
The morning ended with our faithful Common dolphins and the rest of the day was spent in their company and that of Sperm whales. Throughout the day, Sperm whales kept showing their beautiful tails and surfacing in a group.
Due to a technical problem we couldn't take photos today, so all of the ones used here are from previous trip.
Join us soon before the fin whales go away to continue their migration! 😉