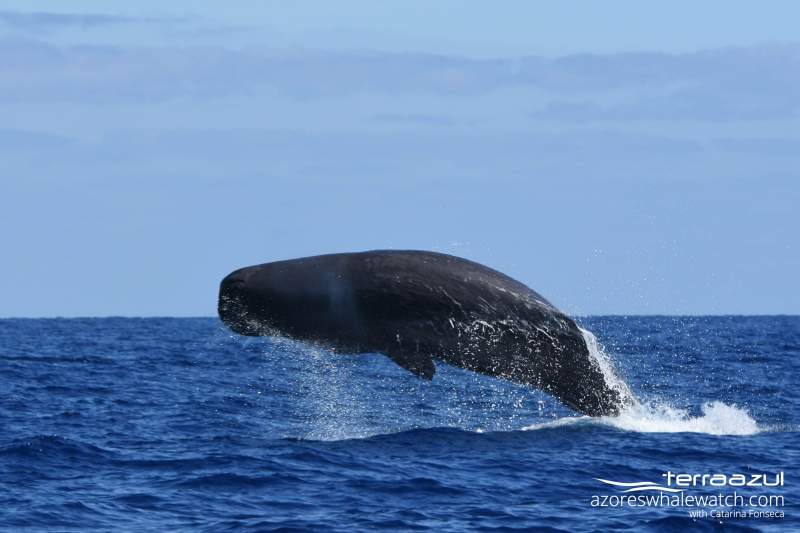 Yesterday the dolphins were not the only ones jumping around here….it was that weekend of the year again when the Redbull Cliffdiving event takes place in Ilheu – the little island in front of Vila Franca do Campo. A male and female team of Cliffdivers from all over the world showed their skills, and Terra Azul was also present to observe the show!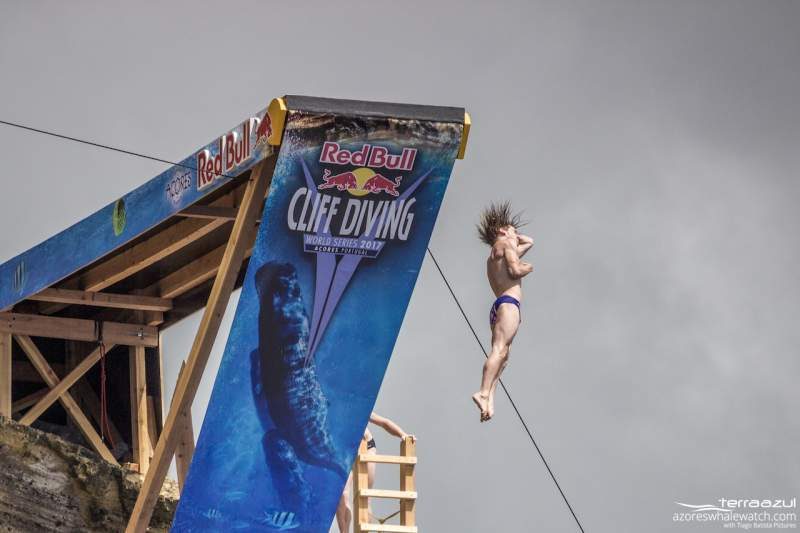 We can still not decide who performs the best jumps, these cliffdivers or our dolphins?
Because the dolphins were once again showing how to be a dolphin! Atlantic Spotted dolphins and Bottlenose dolphins were flying high through the air, while the Common dolphins were very quiet and on their well deserved weekend break.
Today it was a busy but absolutely amazing day!! During the whale watching tours we could enjoy Sperm whales, Atlantic Spotted dolphins Common dolphins and Bottlenose dolphins. The Sperm whales today were particularly curious, approaching the boat, turning sideway, spy-hopping and even jumping!! 😀
In the morning we found them not too far from the coast, nonetheless they were showing the typical foraging behaviour which is lifting their fluke out of the water to take a vertical position in order to take a deep dive. We are used to see them taking deep dives far from the coast, so it was nice to enjoy the whales and the background scenery of the beautiful São Miguel Island. One individual even decided to approach the boat during two different occasions and turn its body underwater before swimming ahead of the boat and showing its fluke.
This afternoon the Spermwhales were beyond amazing again! There were at least 8 individuals and all of them were spyhopping at the same time!! Some huge males showed their teeth and even the 2 calves sticked their heads out. It all happened very near to our boats. Even the crew got very excited with these sightings 🙂 In between the spyhopping 2 adults and 1 calf decided to dive all together, showing their flukes.
While with the Sperm whales, some Bottlenose dolphins showed up and also Atlantic Spotted dolphins but they all seemed to ignore each other. And no day with be complete without a Common dolphin and Cory's Shearwater feeding frenzy 😀
We even had a Skua showing up today!
Keep tuned for more news of our tours! 😀