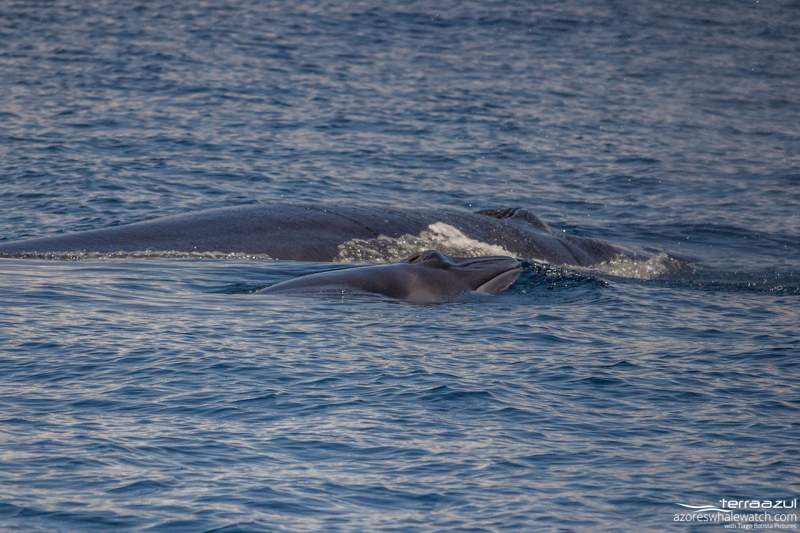 Today was a perfect day to go out on the sea :D.  Flat sea, sun shining all day long without wind, and animals were around of course.
We spent the whole day with 2 Bryde's whales, a mother and her baby :). It was a very small calf, probably born a few days ago. What a lovely time we had with them… They were resting, slowly swimming next to each other. We could hear the powerful breath of the mother, and when the baby surfaced, it was so cute to hear its little blow…
Atlantic spotted dolphins were also in the area all day long.  Feeding  with a lot of Cory's shearwaters around! It looked like they were taking energy from their food as the ocean is full of fish these days. Feed guys, feed! After you have energy to do ashow for us!!
Of course Sperm whales were around as well, to  honor the resident species as we saw mostly migratory species today.  We love to see them showing the tail before taking deep dives! Did you know that Sperm whales spend 72% of their time  diving for foraging ?
At the same time, our swimming with dolphins went very well. They had the chance to see our best friends: common dolphins.
When you come to Terra Azul, you meet our office and guide/skipper team, but don't forget our lookout! Without Filipe and André, our tours wouldn't be the same. You can go to Ponta Garça to meet them and discuss about their job. You will find them in this little white house 😉
Keep connected to have more news! See you soon 🙂