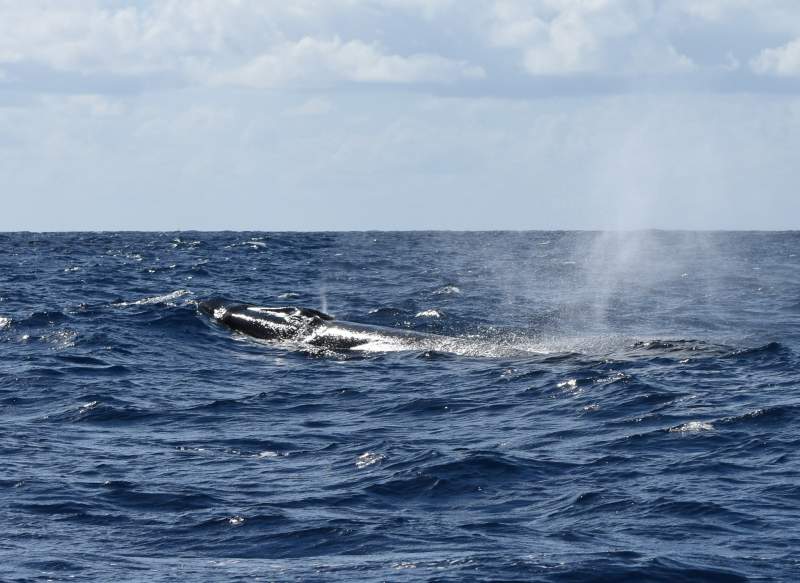 The day looked a bit dark today but that didn't phase us out, only big big waves make us stay inland 🙂
The dolphins didn't disappoint us as usual and we started with a nice group of Common dolphins. They were having some breakfast with the Cory's shearwaters and spent some time underwater. However, quite a few started jumping and playing together 😀
The breakfast time continued with the next group of Atlantic Spotted dolphins 🙂 They tend to be more curious than Common dolphins so they got a bit distracted from their food and came to play with the boat. One young dolphin kept teasing us, approaching the boat underwater but turning back every time we were ready for the photos.
The highlight today were of course the Sei whales! In the morning, our lookout could see 4 of them spread out and we were so lucky to see 2 of them 😀 They were being very fast, spending lots of time underwater and changing directions – so they were a bit hard to find. But patience pays off and finally they decided to come up and delight everyone on board!
After this we found a large and extremely active group of Bottlenose dolphins. There massive bodies were jumping out high over the course of at least 10 minutes. It must have been the wavy sea that got them crazy and they just wanted to be part of the large waves!
Stay tuned for our next adventures at sea!