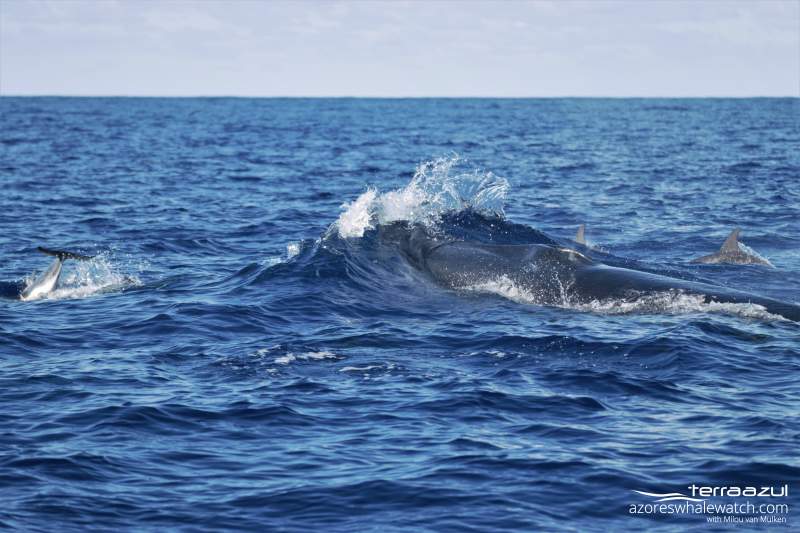 Oh lucky day, lucky day! We started off with the plan to see a Sperm whale. On the way there we accidentally found a group of Common dolphins so we made a quick stop to see these beautiful 4 coloured species.
Very soon Filipe, our lookout, sent us in the direction of the first whale, a young adult female. She went for a deep dive soon, but luckily after a short pause we encountered another young adult female with a calf around (teenage mother? 😉 ) After showing themselves very well, they also went for a deep dive.
But then another one showed up, a very large female that was actually with some huge whitish marks! She was travelling very fast before, of course, showing her big tail!
After lots of whales we moved on to see a giant pod of more then 200 Atlantic Spotted dolphins. Filipe saw from up high that this was only a "small" part of the bigger group, and that it was an infestation of Atlantic Spotted dolphins around Sao Miguel on that moment. So who knows how many it really had been! They were very active and happy to show us their jumping skills.
Now, we left the Spotties and moved on to a nearby area were a Sei whale was waiting for us. Funny thing was, to reach the Sei whale area we were send again towards another huge group of Atlantic Spotted dolphins. It turned out that the whale was feeding right in between the dolphins and birds. Imagine the amount of life and action that was playing in front of our eyes?! It is pretty rare for us humans to witness the presence of whales and dolphins together. Right place at the right time, let's say.
In the afternoon the Sei whale was still together with the dolphins, but soon it started to travel fast and left the area with two spotted dolphins riding for awhile to its side as real escorts 🙂
The swimmers in the meantime were surrounded by the Atlantic Spotted dolphins
Before going back we made a short stop to see the ever so white Risso's dolphins. So, a 5 species day! Will they all be here again tomorrow?