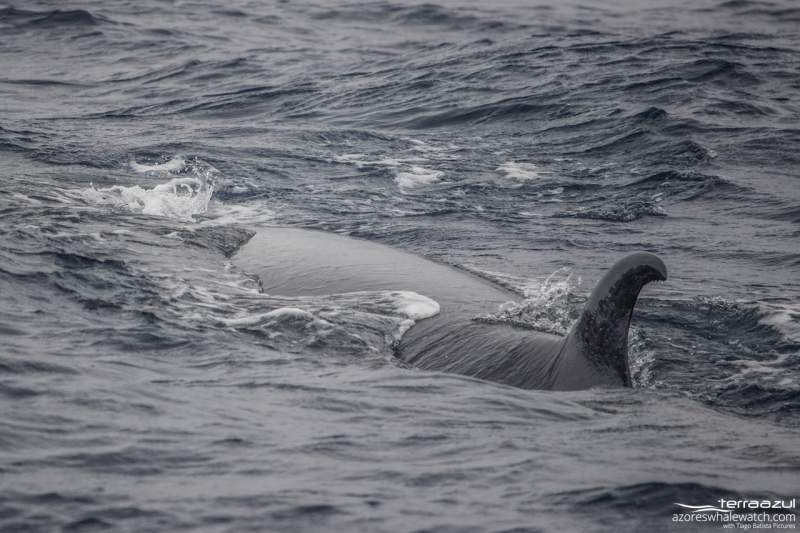 If you read our last blog post the answer is: Yes, we did see the baleen whales again today 😀 And we were able to confirm that it was a Bryde's whale!!!
Today was a "short" day since the weather only allowed us to go out in the morning 🙁 However it was a very special tour! We started out by heading to the Ponta Delgada area as there was a Bryde's whale sighted there… After a while of looking and searching we came to the conclusion that the whale didn't want to play so we headed off.
Soon we came across a foraging group of Cory's Shearwaters and guess what was under them? No, not Common dolphins.. Bottlenose dolphins! A huge group was having a late breakfast and swimming in circles. There we were, enjoying this lovely sighting when our lookout calls through the radio: "Whale next to the lookout point!"
Off we went and, to our surprise, it was a Bryde's whale! We were so happy to have seen them yesterday, that we thought it would be too lucky to see them 2 days in a row.
The last time these whales were seen, before these last couple days, was in 2013! This time we could confirm that it was a Bryde's whale since we could clearly observe the 3 ridges on the rostrum, and that it was the same individual spotted yesterday as we had a positive dorsal fin match 😀
These whales are rare in the Azores but can be seen occasionally during the summer months, as they don't seem to follow the migratory patterns of other baleen whales.
Keep tuned for more exciting news of our tours!! 😀