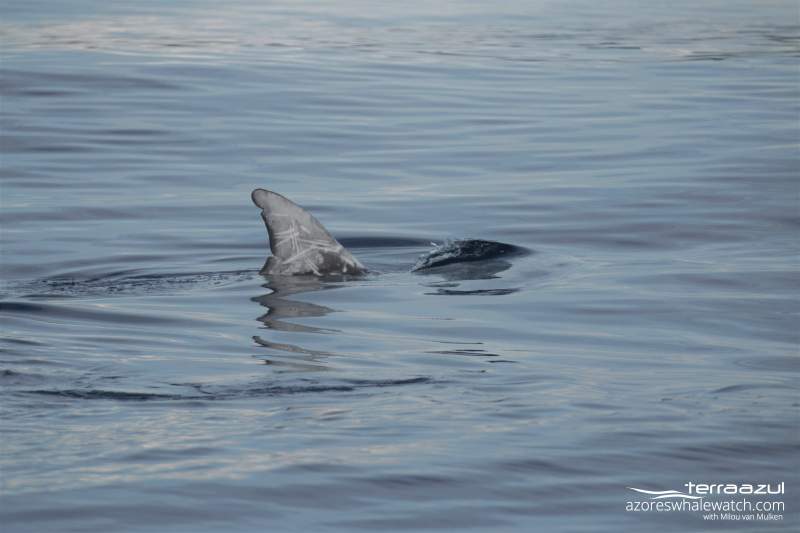 It is a fact, in the Azores you never get bored! 😀 Starting from the weather as the local saying goes: you can have the four seasons in one day, today we had a good variety of it. Rain and fog, sunshine and sudden temperature changes. The animals also helped to don't get bored, as we were able to observe 5 different species 😀
We headed out in the ocean when the visibility was hindered by some fog with some localized showers, but Filipe still found some bottlenose dolphins and not long after he directed us to a larger group of Atlantic spotted dolphins. They were tight with many individuals in body contact: clearly they were socializing. A bit further to the West our friends mom and calf Bryde's whales were enjoying some sunshine and so there we went as well.
In the afternoon we were observing another baleen whale, a very fast travelling Sei whale which at some point surfaced with a remora attached to its dorsal fin. However, the fish wasn't able to grasp its host in a proper way after the second surfacing the remora was not there anymore. Sei whales are the fastest baleen whales, reaching 55km/h, so catching a ride on it it is not that easy 😉
The Risso's dolphins spotted in the late afternoon were also fast swimming. Their sudden high jumps were posing some difficulties to our whale watchers in taking good pictures.
The wind is expected to change direction, let see what tomorrow's breeze will bring. Stay tuned for more news or join us on a tour 🙂