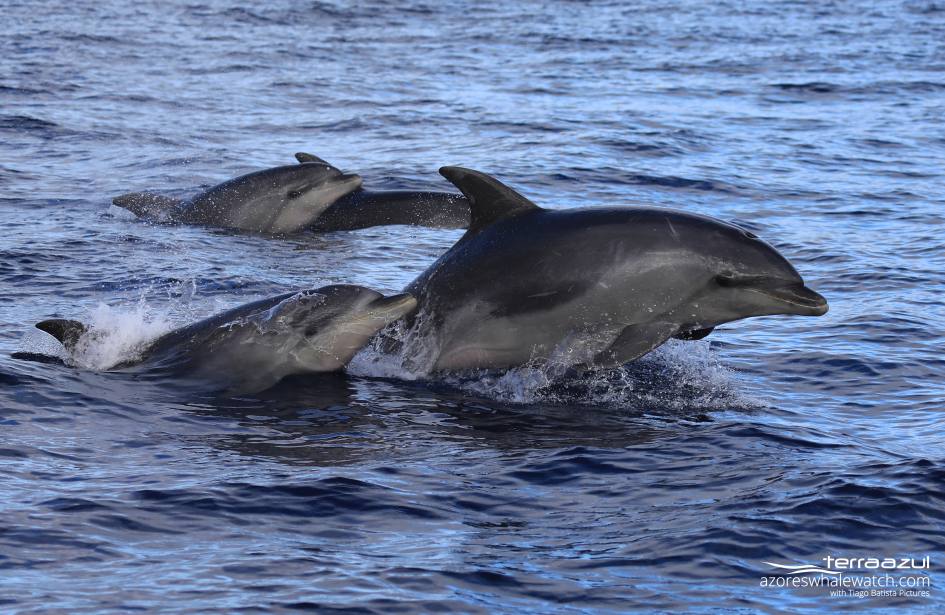 Hello whale watchers,
The ocean was a hive of activity today, incredible! The weather gave us a narrow time window to visit the ocean in the morning. It was already clear at the time of leaving the harbour that we were in for an adventurous experience! The waves were rolling in strong from the east, with many whitecaps scattered over the greenblue ocean surface. We headed west. Only a few miles off Lagoa, we encountered our first species: Bottlenose Dolphins (Tursiops truncatus). They made a grand appearance, porpoising out of the waves in great numbers! We could count at least 50 dolphins simultaneously at the surface, but it is very likely there were many more (but not more than 100). All these dolphins splashing about amidst the whitecaps made it feel as if we were watching a busy beehive! A mesmerising sighting for all.
For our next sighting we continued in a westerly direction. With the airport of Ponta Delgada as a backdrop we circled around searching for a small group of Common Dolphins (Delphinus delphis). At first, it seemed like we weren't going to find them in time. We spotted one dolphin jumping out of the water, but the wind was blowing forcefully, the waves were getting bigger…we could not stay and search for much longer. Just as we decided to get ready for our return, the common dolphins were seen close to us. We gave it a few minutes. We enjoyed their energetic movements as they swerved from one boat to the other, bowriding from time to time. Then, slowly but surely we made our way back to Vila Franca do Campo. We were a long way from home and the waves were coming straight for us! Before the very end of our tour, we had a short reunion with the bottlenose dolphins seen earlier. Without any intent to approach them, we observed them from a distance; allowing the dolphins to continue their day without any new whale watch interactions. 🙂
The weather is quite unstable at the moment. Typical for winter in the Azores. Let's see if tomorrow we have another chance to go to sea!