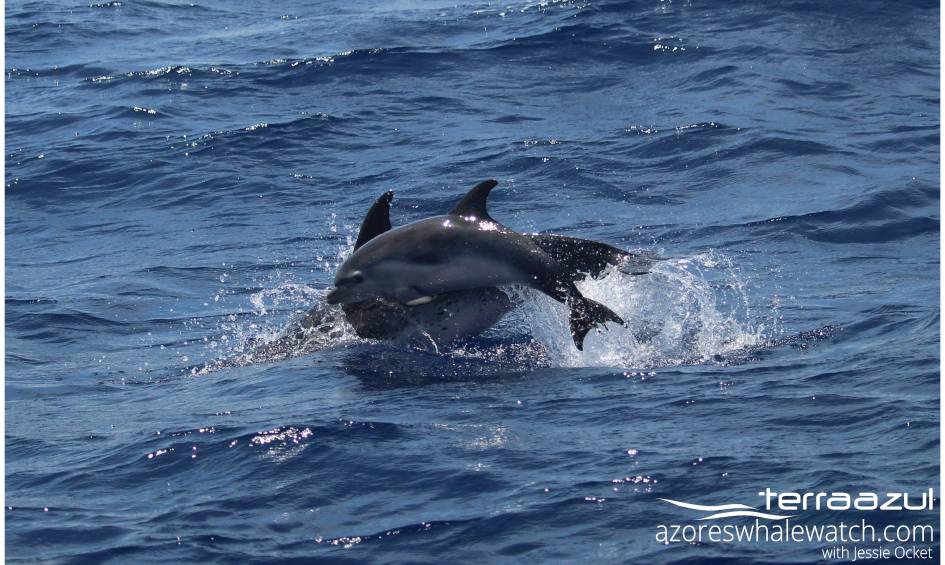 Atlantic Spotted Dolphins (Stenella frontalis)
Hello ocean friends!
After a few days of bad weather and rough sea conditions, finally we could go out again! It's hard not to be excited before a whale watch trip. We have to admit: being out on the ocean is way more fun and adventurous than staying at home. Each and every one was thrilled!
In the morning we took off with a pod of Common Dolphins (Delphinis delphis). They seemed to be in a socializing behaviour, surrounding our boat and saying hello. What started as a friendly encounter became very soon an exciting and meaningful display. The dolphins increased in speed and we found out that they were actually foraging (read: stalking the fish). Because they were preparing their breakfast, we decided to leave the group.
Also our lookout signaled us we had to move to the west. Whale zone alert!
On our way we came across a huge pod of Atlantic Spotted Dolphins (Stenella frontalis). What a surprise, since we were actually heading to the whales. Around 200 dolphins decided to boost our journey to the west. Riding the bow, swimming and jumping next to our boat. That's the way aha aha we like it! 🙂
Arrived at the whale zone! We saw three Sperm Whales (Physeter macrocephalus). One of them diving pretty soon, most likely in order to search squid. The others stayed at the surface some time, giving our guests the chance to enjoy and to take pictures.
In the afternoon our guests were also lucky to encounter a Beaked Whale. Stay tuned for a next blog post about this species.
Seeing cetaceans isn't the only thing that make our wildlife tours special. This afternoon our main guide Lorenzo and the guests on his boat were also able to spot several Bulwer's Petrels (Bulweria bulwerii) or Alma Negra, which is a rarely seen seabird species here in the São Miguel. For more information about this beautiful bird, check one of our blog posts by clicking here.