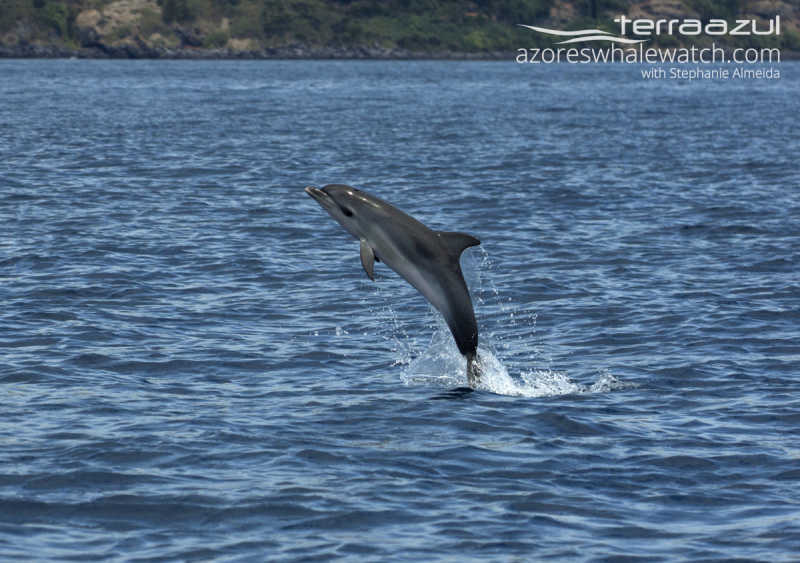 Today is the 29th of December. Our last tour of the year 2020 took place today!
I have to narrate with excitement how amazing Today was, since it was just too good to be true…
We love winter trips when we can safely go out and find animals behind a magical wave like we did in the morning.
We had the loveliest group of guests joining us. A group of strangers admiring the coastline where a rainbow was covering the grasslands where cows feed.
In the area where the Common Dolphins (Delphinus delphis)  a calm group, we could really enjoy being with them.
We left the dolphins and navigated into the unknown, our lookout had no other sightings from the coast where she was, so we continued to navigate in order to initiate a search party, while our lookout continued to search from land.
Suddenly excitement filled the boat, there it was a nursing group of Atlantic Spotted dolphins (Stenella frontalis). We could not believe it, newborns in the water jumping around with their mothers joining and using the waves. These migratory dolphins are one of the most beautiful species of dolphins just greeting us.  We are so happy to have seen them in winter with babies of 60 cm in length, to insure the next generation of spotties.
Our guests were the ones that found the pod, another example of how important it is all of us, guests and staff to work together at sea.
So we want to thank all of you wonderful people for having joining us this year and the years before. We can't wait to enter into 2021 with love and with certainty it will be a year with a lot of love and happiness for all.