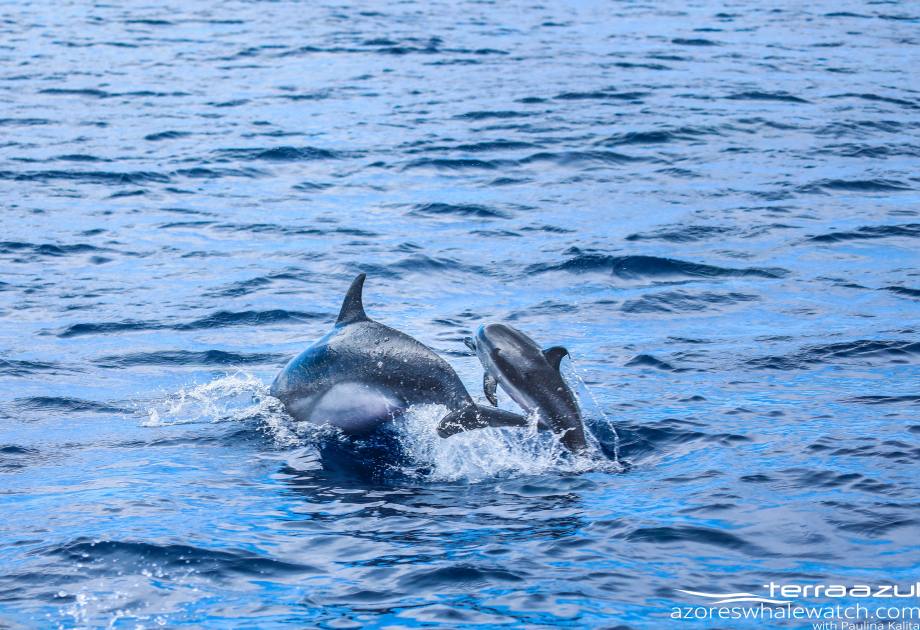 A mother-calf Atlantic Spotted Dolphin (Stenella frontalis) porpoising next to Terra Azul boat.
Ola' whale-watchers!
Summer does not seem to be coming to an end here in São Miguel Island, at least for the cetacean species that we observe out there!
After having spent some time with a small group of Common Dolphins (Delphinus delphis), we went for a search in off-shore waters. Once again we had an amazing encounter with Atlantic Spotted Dolphin (Stenella frontalis), but this time we found a huge pod of hundreds and hundreds of them with several sub-groups socializing, feeding and resting. In the same area there were also several Cory's Shearwaters (Calonectris borealis) and Great Shearwaters (Puffinus gravis) taking advantage of the abundance of fish.
At about 6 miles from shore we were also lucky enough to spot a Madeiran Storm Petrel (Oceanodroma castro). These little pelagic birds breed during the winter in Azores but only one colony is known in São Miguel, on the Ilehu of Vila Franca do Campo. Around sixty birds were estimated to nest in 2017, after several years of absence. This year more than 40 has been ringed already and we hope their number will increase. It is fundamental for their breeding success to limit predators such as rodents and feral cats, that at the moment have been completely eradicated from the Ilehu. However, they are still preyed on by gull species, such as the Yellow-legged Gull (Larus michahellis). Storm petrels generally avoid gulls and other predatory birds coming back to the nest at night, and even staying at sea during full moon nights.
That's all for today, to the next adventure out there! 🙂