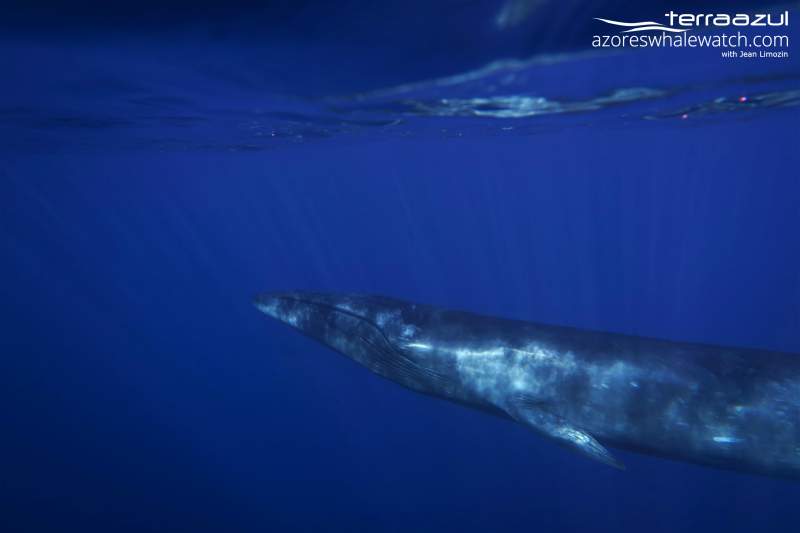 Well, we did not expect today to be like this! Generally November is the slower season, but today it was a full on action day! To start off, the conditions were perfect and sunny, and we immediately went for a Baleen whale!
It was hard to distinguish between Baleen whales species today, because however they blowed many times, the rest of their head was not clearly visible, which is the main clue that we use for identification.
After a while a Baleen whale, which is known to be either a Sei whale or Bryde's whale, came SO close to the boat, that we saw its full shadow including tail fluke, as it was just 3 meters away from us. One of our friendly clients, Mr. Jean Limozin, had a professional underwater camera with him and took the underwater shots that you will find in this post. Look at that eye! (the following photo is a zoom of the feature photo)
Like we were not lucky enough yet, a group of about 8 Pilot whales appeared on the sunny water surface. Literally baleen whales on the left, and Pilot whales on the right! The people were super excited too, because which side to look at?! The Pilot whales started very relaxed and then ended up racing through the water surface. A small baby
appeared also next to its mom.
And still, it was not enough, so we heard notice of several more Baleen whales in another area! We expect 1 of them to be a Fin whale due to its huge size, dorsal fin shape and the fact that the dorsal fin was very much to the back of the body. But it was hard to say as this one only showed twice and it was in the same time of the other whales, that appeared on the other side of the boat. The others had, again, been Bryde's whales and/ or Sei whales.
And, who would think the Atlantic Spotted dolphins are STILL here?! With each passing day we are more surprised
to still have them here. We know the weather had been remarkably warm this year, but it has definitely cooled down already, since we are half way through November. I wonder how long they will stay with us this year before moving to the warmed South Atlantic. Or do you think they are planning winter holidays in Sao Miguel? 🙂 Let us know your thoughts!