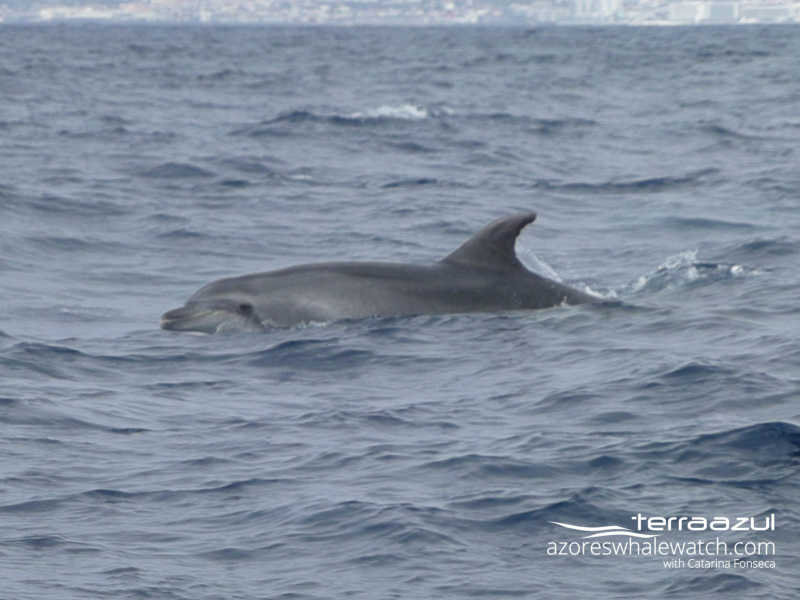 Hello naturelovers!
At todays afternoon tour splashes of water got us as soon as we left the harbour! Good that we had our lookout to guide us – I could just see the bottlenose dolphins that we were searching when we were right next to them. But once there we could enjoy seeing them surfing waves, jumping out of the water and close to the boat several times. It was a group of maybe 40 individuals (which is my rough guess, with the waves it was quite tricky to see 🙂 ). After a longer while we felt it was time to go, also because other boats arrived and we did not want to disturb the animals too much.
Our lookout had quite a tricky time meanwhile, the weatherconditions close to shore where not great, so we decided to drive further out, as the sera seemed to be much calmer and the visibility better too. We tried to cover a wide area with both boats, so we could help out searching life. It took some time, but we then spotted Atlantic spotted dolphins!
The group was very playful, some of the showed jumps were especially long and high! For me it is always nice to compare the behaviour of different species, so I was really glad we had the opportunity to see them aswell <3
Our ride back was long, so we arrived the base a bit later than usual – I hope that was ok for everybody! Thank you for the nice time spend with us 🙂 I hope you will remember the dolphins for a long while!