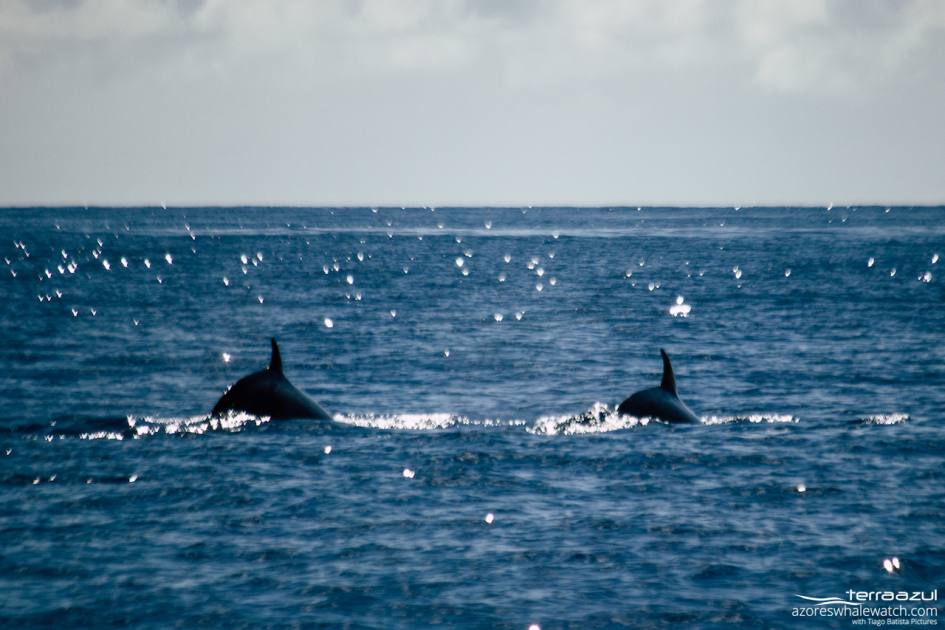 Today we got a strike of luck! Firstly it was finally a real summer day, like July is supposed to be. It was flat and hot at sea and the ocean seemed endless.
After Atlantic Spotted and Common dolphins, we found to our surprise a pod of at least 4 Northern Bottlenose whales! This very rare sighted species are known to grow up to 9 meters long, and have a big round head that sticks out like a rock. (see feature photo)
Last time we saw them was in the summer of 2015, 3 years ago. And over the past 10 years, they have only been sighted between July 23 and August 18. Seems like they enjoy the warm summer waters of the Central Atlantic!
This was a huge surprise, but it was not nearly over. In the afternoon the Risso's dolphins appeared, Common dolphins were there, and Sperm whales.
The Sperm whales were extraordinary. There were about 15 to 20 whales in the area, they were just popping up in all directions as far as you could look. Eventually especially 1 individual stayed really near to our boat, and then at least 4 whales started their little nap, pointing their heads out of the water for about 10 minutes. It was an amazing sight! Do you think this mass gathering has something to do with tomorrow's bloodmoon?