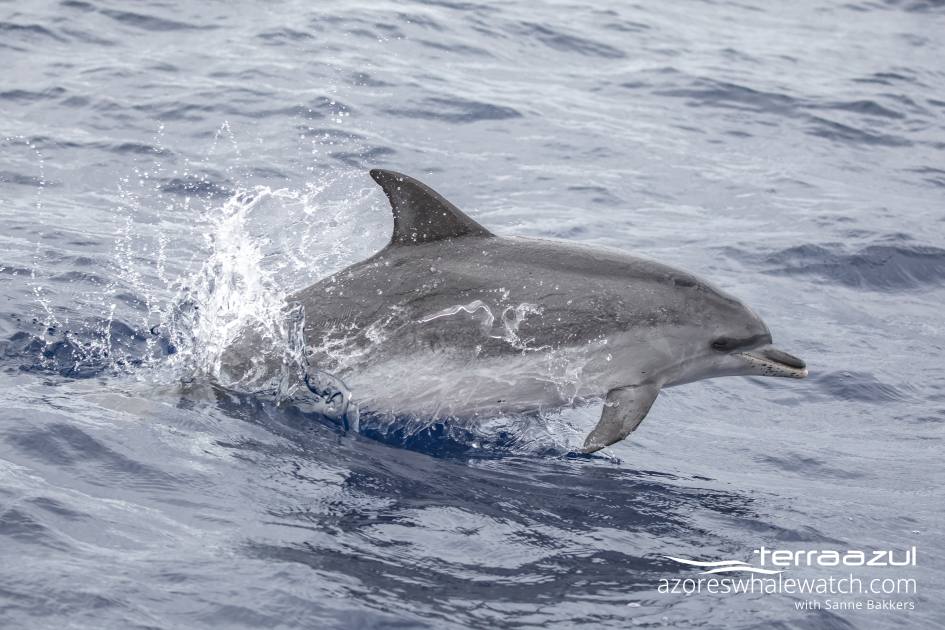 The weather forecast has been very colourful this weekend. Indeed, our Saturday was shaped by rain clouds and strong winds. Don't be fooled by the calm appearance of the waters in the harbour or the patches of brilliant sunshine…the open ocean environment can present itself in an entirely different way! Soon after we left the harbour and we ventured further from the coast, our search for marine wildlife was complemented with a roller coaster adventure. Nevertheless, Mother Nature had some nice things for us in store!
Our  lookout Nicole first led us to a nursery group of Atlantic Spotted Dolphins (Stenella frontalis). We were surrounded by tens and tens of mother-calf pairs, travelling across the wind-swept waters several miles off São Miguel's south coast.
After our beautiful encounter with the Atlantic spotted dolphins, the decision was made to head in the direction of Ribeira Quente. Sometimes you have to take a chance to get a great reward. The adventurers that came out whale watching with us today handled themselves perfectly as we made our way through large waves with breaking white caps. In the end, our decision was totally worth it, giving us a wonderful sighting of a family group of Sperm Whales (Physeter macrocephalus): several adult females and a total of three calves!
With love from the ocean, see you next time!