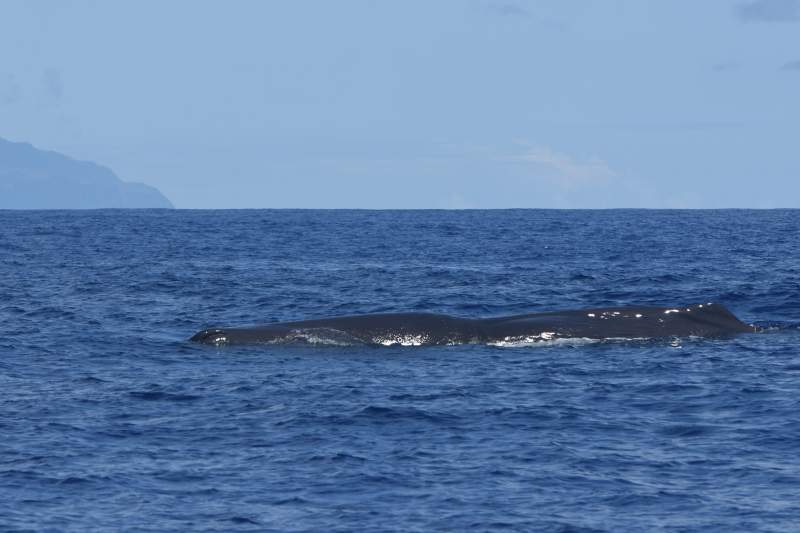 Our boats were heading out in the ocean. The flat sea and the shining sun welcomed us with open arms! Nature ment to be on its best today!
Our first encounterment were a group of Risso's dolphins, that were suddenly appearing at the surface. They were coming up very camly and showing their falcate dorsal fin. As they are getting a length of about 4 meters, it is always impressive to see them.
Filipe sent us also to a group of Spotted dolphins. We could observe them during socialising movements and also during a feeding. As usual they were very active and showed their body during impressive jumps. Especially the adults joined our direction for a bit and jumped parallel to our boat.
Another encounter was a small group of Bottlenose dolphins, that were camly resting. It was very special, because as the sea was very flat, we could observe their beautiful bodys also in the water. Nature gave them a smile, what was clear to see as they appeared at the surface.
That is still not all! A male Sperm whale showed up and showed its impressive body. He also took a deep dive and raised its fluke. During a later surfacing movement, we could even observe the back with the special hump.
What made the day to the best was the encounterment of Pilot whales. They were swimming tight together and even juveniles were in the group. Did you know, that every fin of the Pilot whale is different, depending on the age and gender 🙂
During the afternoon, we met our adorable Bryde's whales 🙂 It had been a while since we last saw them so we were starting to think they had left us but alas they are still here.
Nearby, a male Sperm whale was just about to finish his foraging dive so we went to keep him company while he prepared for the next one 🙂
Finally, the end of that tour and the rest of the day were spent with dolphins! The Common dolphins were very calm today, travelling slowly in tight groups.
We could also count on the presence of lots of Atlantic Spotted dolphins and Risso's dolphins!
So all in all a special day with a lot of special encounterments!
Stay tuned for our new adventures 🙂