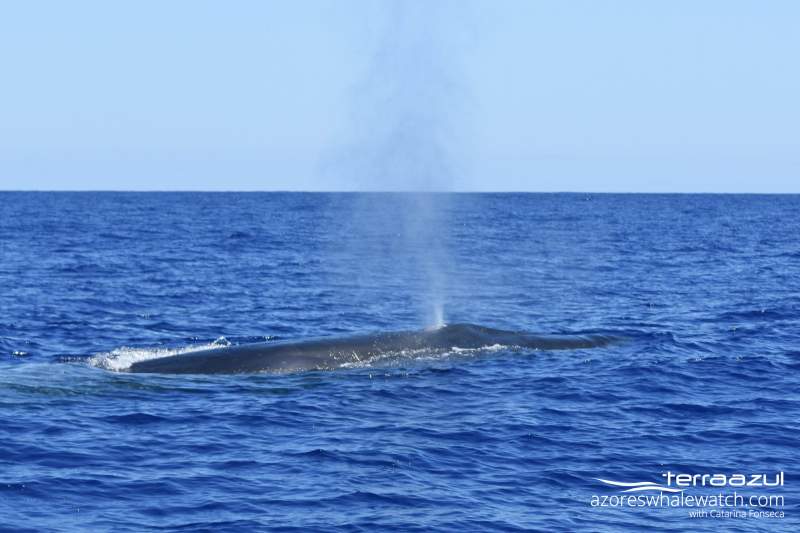 In the morning we went out very far for our fast traveling Sei whale again! We have been seeing Sei whales now for a few weeks, and this is because they are one of the few baleen whales we can see in the Azores that has a very irregular migration pattern. This one was easy to identify by the typical small "blow" and the large dorsal fin.
We also had a visit of a large nursery group of Risso's dolphins including many calves, and the ever so lovely Atlantic spotted dolphins 🙂
The afternoon was pretty special as well with 5 species sighted in one tour 😀
We started out with a very calm group of Striped dolphins! Usually we see them travelling very fast and jumping all the time, but today they were really relaxed. Still jumping, they were moving slowly and we were able to see their beautiful Blue and White colours.
Afterwards, we met 2 friendly Sei whales! One of them was very close to the boat during the whole sighting. We could see it trough the clear water and, of course, when it came out to breath 🙂
After the whales, every dolphin wanted to say they were present and decided to show up almost all at the same time! We started with the Atlantic spotted dolphins that were travelling fast to the east.
Next, it was the time for the calm group of Risso's dolphins with their calves that we had met earlier today. Now, there were more of them and very spread out.
And to finish off in great style: a huge and curious group of Bottlenose dolphins!
We were actually swimming with them later in the afternoon and they were very calm, just like the sea: almost a mirror! So they were beautiful to see underwater as well as to watch them from the boat as it would be an aquarium 🙂
Tomorrow will be the last day of August, let see what it will bring. Join us!! 😉