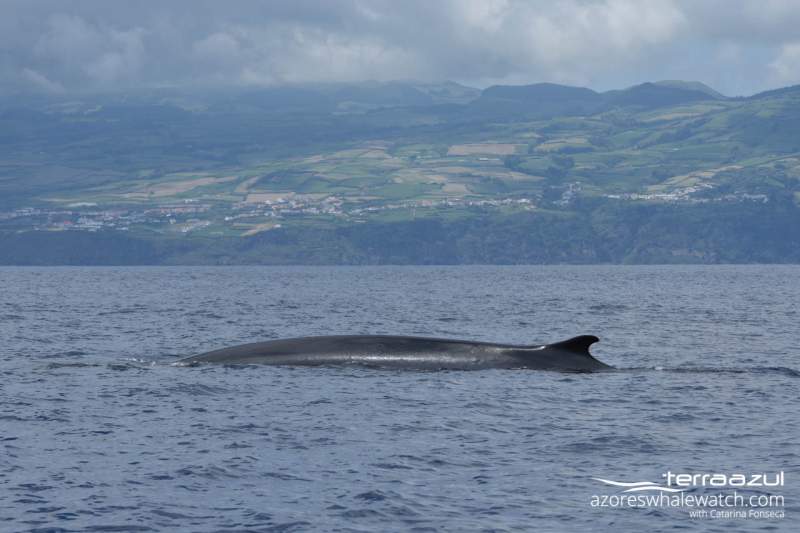 Today was one of those days that you could enjoy very much, full of surprise! Sea conditions and the visibility were perfect to go out  and we managed to see a lot of different species!
This morning we saw one of our famous resident species: the sperm whale. They were occupied with their breakfast so they were diving to catch some squid around. "Be ready, it will dive! In 1…2…Prepare….3! Ouuuaaahhh!" Bye bye sperm whale 🙂
We spent the all day with Atlantic spotted dolphins, they are a lot on the south coast of São Miguel now, split in different groups from 30 to 100 individuals. So we enjoyed them during our swimmings with dolphins 🙂
What a surprising afternoon: we saw 2 different species of baleen whales! Amazing to see them at this time of the year.
The first one was a sei whale, resting at the surface. Easily recognizable by its tall and falcate dorsal fin.
Then, appeared 2 fin whales, a juvenile and an adult, at about 3 miles from the coast, just in front of the marina of Vila Franca do Campo. They were circling in the same area, probably feeding on their favourite prey: krill.
Maybe these baleen whales are they to lazy to migrate to the North Atlantic, and preferred to spend time here around the Azores? 😉 For how long time will they stay here? Let's see what tomorrow bring us, hopefuly you will be part of this new journey.
And to finish the day, a lovely but shy group of bottlenose dolphins showed up in front of our boat, like a cherry on the cake to finish this beautiful day…
Keep your eyes open, sea turtles are enjoying the sun at the surface!