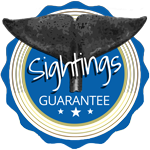 How does the TERRA AZUL™ Guarantee work?
It's simple. If you join a TERRA AZUL™ Whale Watching or Swim with Dolphins tour, and no Cetacean (either a Whale or a Dolphin) is sighted, we welcome you back for another tour free of charge within 30 days.
Book early in your itinerary since all tours are subject to availability and favorable weather conditions. This is not a money-back guarantee – if you are unavailable to reschedule, we retain a 20% fee to cover minimum costs, and the remaining will be refunded.
It is important to understand that with wild animals in the middle of the Ocean, and as in any Wildlife tour, it is not possible to guarantee that you will see specifically Whales, or any other species at a specific time frame. Even with our lookouts high inland improving our chances, it is not uncommon for our friends to dive into the deep Ocean.
This guarantee applies exclusively to Whale Watching and Swim with Dolphins tours booked directly through our official website, in addition to the standard Terms & Conditions below. This does not apply to large groups, multi-activity or private tours.

How about Weather Insurance?
When you book with TERRA AZUL and weather conditions prevent your tour from departing, and you are unavailable to reschedule, you will be fully refunded.
Remember to book early in your itinerary since all bookings are at all times subject to rescheduling due to changes in weather & sea conditions and safe boat capacity requirements, and may be rescheduled without prior notice if favorable conditions are not met. This insurance applies to all tours, including large groups and private tours.

Booking & Confirmation
Minimum age is 4
Any Children up to the age of 13 must always be accompanied by at least one adult.
Primary First Name, Last Name, and Email Address are required on all bookings.A Phone Number is recommended for last minute changes.
Bookings are accepted up to 2 hours before departure times.
Confirmation will be received by email within 24 hours from payment.
Payment
A minimum Deposit of 20% is required to confirm all reservations, until 24 hours before departure time.
Full payment is required until 24 hours before departure time.
We accept Bank Transfer, Paypal (available with Visa, MC, AMEX, etc), or Cash (only at our base)
For Credit Card payments a non-refundable 3% fee may be charged for secure credit card payment processing.
We cannot be responsible for any surcharges resulting from other third-party payment processing, or currency exchange.
Rescheduling
Should you need to reschedule with more than 24 hours notice, rescheduling is free of charge.
Should we need to reschedule a trip for any reason, and you are unavailable to attend the next departure time, you will be fully refunded.
Cancellation & Refund
Should you cancel with more than 7 days before departure time, you will be fully refunded.
Should you cancel with less than 7 days before departure time, we will retain your deposit, and you will be refunded for the remaining.
Should you cancel with less than 24 hours before departure time, or not show up in the designated time, you will be fully charged.
Should we cancel a trip for any reason, you will be fully refunded.
Specific: Large Groups or Private Tours
A minimum Deposit of 20% may be required to confirm reservations, until 7 days before departure time.
Full payment may be required until 7 days before departure time.
Should you cancel with less than 48 hours notice, or not show up in the designated time, you will be fully charged.
Passengers must be ready at the point of departure at the designated departure time, or risk being considered as no-shows to lose their reservation plus being charged for the tour.
We reserve the right to substitute any vessel without prior notice.
We reserve the right to cancel any tour without prior notice.
We reserve the right to change prices in the event of currency fluctuations, taxes or other cost increases out of our control. Tickets purchased prior to the increase will not be affected by the change.
If, in the opinion of the Skipper, the tour cannot be continued for any reason, then the Skipper may terminate the tour at any time.
Reservations are required for all tours, and are good for the specific date and time chosen only.
In the event that any specified tour is cancelled, we reserve the right to, at our option either refund the fare (less any fees) or issue a new reservation for another tour.
Passengers shall not carry on any alcoholic beverages. In the event of a passenger being required not to embark or to disembark from the vessel under the provisions of this condition, the proprietors, nor the captain shall be under any liability to such passenger of any kind whatsoever.
Terra Azul, Lda. is not responsible for any injury to person, or damage to property arising from tours.
On the Vessel
By signing the boarding list you are assuming full responsibility for your integrity on board, and declaring appropriate physical conditions.
It is mandatory to use life vests during all trip and to stay firmly on your seat until the Skipper indicates otherwise.
The passenger is obliged to follow the Skipper's directions at all times.
We work to continuously improve our tours and services, and value the feedback of our Guests towards an always better practice.
If you have any questions or complaints regarding our service, please contact us as soon as possible on +351 913 453 030 or info@azoreswhalewatch.com with your concerns – we'll reply to you right away.
Be Prepared!
Book in advance, and place this on top of your schedule to ensure availability and room for rescheduling.
Arrive early for Registration & Briefing.
Bring a personal Water supply, sunscreen and chap-stick for the Sun.
No refunds for Sea-sickness – don't let it ruin your day. Eat light, and visit the local Pharmacy if you need it.
Safety Starts with you – protect any personal equipment, inform the Crew if you feel distressed, or if you notice something in the water.
This privacy policy has been compiled to better serve those who are concerned with how their 'Personally Identifiable Information' (PII) is being used online. PII, as described in US privacy law and information security, is information that can be used on its own or with other information to identify, contact, or locate a single person, or to identify an individual in context. Please read our privacy policy carefully to get a clear understanding of how we collect, use, protect or otherwise handle your Personally Identifiable Information in accordance with our website.
Information we collect:
When ordering or registering on our site, as appropriate, you may be asked to enter your name, email address, phone number or other details to help you with your experience.
We collect information from you when you register on our site, place an order, subscribe to a newsletter, respond to a survey, fill out a form, Use Live Chat, Open a Support Ticket or enter information on our site, or when you provide us with feedback on our products or services
How do we use your information?
We may use the information we collect from you when you register, make a purchase, sign up for our newsletter, respond to a survey or marketing communication, surf the website, or use certain other site features in the following ways:
To personalize your experience and to allow us to deliver the type of content and product offerings in which you are most interested.
To improve our website in order to better serve you.
To allow us to better service you in responding to your customer service requests.
To administer a contest, promotion, survey or other site feature.
To quickly process your transactions.
To ask for ratings and reviews of services or products
To follow up with them after correspondence (live chat, email or phone inquiries)
How do we protect your information?
We do not use vulnerability scanning and/or scanning to PCI standards. An external PCI compliant payment gateway handles all payment transactions.
We do not use an SSL certificate because we do not process payments.
Do we use 'cookies'?
Yes. Cookies are small files that a site or its service provider transfers to your computer's hard drive through your Web browser (if you allow) that enables the site's or service provider's systems to recognize your browser and capture and remember certain information. For instance, we may use cookies to help us remember and process the items in your shopping cart. They may also used to help us understand your preferences based on previous or current site activity, which enables us to provide you with improved services. We also use cookies to help us compile aggregate data about site traffic and site interaction so that we can offer better site experiences and tools in the future.
We may use cookies to:
Help remember and process the items in the shopping cart.
Understand and save user's preferences for future visits.
Keep track of advertisements.
Compile aggregate data about site traffic and site interactions in order to offer better site experiences and tools in the future. We may also use trusted third-party services that track this information on our behalf.
You can choose to have your computer warn you each time a cookie is being sent, or you can choose to turn off all cookies. You do this through your browser settings. Since browser is a little different, look at your browser's Help Menu to learn the correct way to modify your cookies.
When users disable cookies in their browser:
If you turn cookies off, Some of the features that make your site experience more efficient may not function properly.Some of the features that make your site experience more efficient and may not function properly.
Third-party disclosure
We do not sell, trade, or otherwise transfer to outside parties your Personally Identifiable Information unless with users' prior consent. This does not include website hosting partners and other parties who assist us in operating our website, conducting our business, or serving our users, so long as those parties agree to keep this information confidential.
We may also release information when it is appropriate to comply with the law, enforce our website policies, or protect ours or others' rights, property or safety.
Non-personally identifiable visitor information may be provided to other parties for marketing, advertising, or other uses.
Occasionally, at our discretion, we may include or offer third-party products or services on our website. These third-party websites have separate and independent privacy policies. We therefore have no responsibility or liability for the content and activities of these linked websites.
Nonetheless, we seek to protect the integrity of our website its visitors and will welcome any feedback regarding these websites.
Google
Google's advertising requirements can be summed up by Google's Advertising Principles. They are put in place to provide a positive experience for users: http://support.google.com/adwordspolicy/answer/1316548?hl=en.
We may use Google AdSense Advertising on our website, and Google, as a third-party vendor, uses cookies to serve ads on our site. Google's use of the DART cookie enables it to serve ads to our users based on previous visits to our site and other sites on the Internet. Users may opt-out of the use of the DART cookie by visiting the Google Ad and Content Network privacy policy.
We have implemented:
Remarketing with Google Analytics
Google Display Network Impression Reporting
Google Analytics Demographics and Interest Reporting
DoubleClick Platform Integration
We, along with third-party vendors such as Google use first-party cookies (such as the Google Analytics cookies) and third-party cookies (such as the DoubleClick cookie) or other third-party identifiers together to compile data regarding user interactions with ad impressions and other ad service functions as they relate to our website.
To Opt Out
Users can set preferences for how Google advertises to you using the Google Ad Settings page. Alternatively, you can opt out by visiting the Network Advertising Initiative Opt Out page or by using the Google Analytics Opt Out Browser add on.
California Online Privacy Protection Act
CalOPPA is the first state law in the US to require commercial websites and online services to post a privacy policy. The law's reach stretches well beyond California to require any person or company in the United States (and conceivably the world) that operates websites collecting Personally Identifiable Information from California consumers to post a conspicuous privacy policy on its website stating exactly the information being collected and those individuals or companies with whom it is being shared. – See more at: http://consumercal.org/california-online-privacy-protection-act-caloppa/#sthash.0FdRbT51.dpuf
According to CalOPPA, we agree to the following:
Visitors can visit our website anonymously.
We maintain a link with the text "Privacy Policy" linking to our privacy policy, which can easily be found on the footer of every page of our website.
Visitors will be notified of any Privacy Policy changes on our Privacy Policy Page.
You can change your personal information either:
by emailing us
by calling us
by logging in to your account
by chatting with us or by sending us a support ticket
How does our site handle Do Not Track signals?
We honor Do Not Track signals and Do Not Track, plant cookies, or use advertising when a Do Not Track (DNT) browser mechanism is in place.
Does our site allow third-party behavioral tracking?
It's also important to note that we allow third-party behavioral tracking
COPPA (Children Online Privacy Protection Act)
When it comes to the collection of personal information from children under the age of 13 years old, the Children's Online Privacy Protection Act (COPPA) puts parents in control. The Federal Trade Commission, United States' consumer protection agency, enforces the COPPA Rule, which spells out what operators of websites and online services must do to protect children's privacy and safety online.
We do not specifically market to children under the age of 13 years old, or let third-parties, including ad networks or plug-ins collect PII from children under 13.
CAN SPAM Act
The CAN-SPAM Act is a law that sets the rules for commercial email, establishes requirements for commercial messages, gives recipients the right to have emails stopped from being sent to them, and spells out tough penalties for violations.
We collect your email address in order to:
Send information, respond to inquiries, and/or other requests or questions
Process orders and to send information and updates pertaining to orders.
Send you additional information related to your product and/or service
Market to our mailing list or continue to send emails to our clients after the original transaction has occurred.
To be in accordance with CANSPAM, we agree to:
Not use false or misleading subjects or email addresses.
Identify the message as an advertisement in a reasonable way.
Include the physical address of our business or website headquarters.
Monitor any third-party email marketing services for compliance, if used.
Honor opt-out/unsubscribe requests quickly.
Allow users to unsubscribe by using the link at the bottom of each email.
If at any time you would like to unsubscribe from receiving future emails, please:
Follow the instructions at the bottom of the email
Contact us by email or phone requesting removal
We will promptly remove you from all correspondence.
Last Updated on 2017-08-19