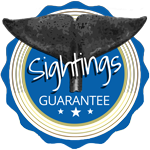 How does the TERRA AZUL™ Guarantee work?
It's simple. If you join a TERRA AZUL™ Whale Watching or Swim with Dolphins tour, and no Cetacean (either a Whale or a Dolphin) is sighted, we welcome you back for another tour free of charge within 30 days.
Book early in your itinerary since all tours are subject to availability and favorable weather conditions. This is not a money-back guarantee – if you are unavailable to reschedule, we retain a 20% fee to cover minimum costs, and the remaining will be refunded.
It is important to understand that with wild animals in the middle of the Ocean, and as in any Wildlife tour, it is not possible to guarantee that you will see specifically Whales, or any other species at a specific time frame. Even with our lookouts high inland improving our chances, it is not uncommon for our friends to dive into the deep Ocean.
This guarantee applies exclusively to Whale Watching and Swim with Dolphins tours booked directly through our official website, in addition to the standard Terms & Conditions below. This does not apply to large groups, multi-activity or private tours.

How about Weather Insurance?
When you book with TERRA AZUL and weather conditions prevent your tour from departing, and you are unavailable to reschedule, you will be fully refunded.
Remember to book early in your itinerary since all bookings are at all times subject to rescheduling due to changes in weather & sea conditions and safe boat capacity requirements, and may be rescheduled without prior notice if favorable conditions are not met. This insurance applies to all tours, including large groups and private tours.

Be Prepared!
Book in advance, and place this on top of your schedule to ensure availability and room for rescheduling.
Arrive early for Registration & Briefing.
Bring a personal Water supply, sunscreen and chapstick for the Sun.
No refunds for Sea-sickness – don't let it ruin your day. Eat light, and visit the local Pharmacy if you need it.
Safety Starts with you – protect any personal equipment, inform the Crew if you feel distressed, or if you notice something in the water.