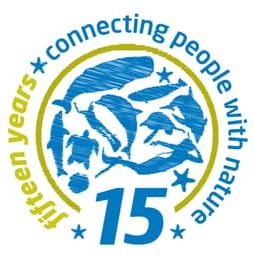 As the wind continues to blow strong from East, all trips have been cancelled today. When it comes to nature we are powerless and safety goes first. Nevertheless, let's take this time to share some memories of our past and present crew, going back all the way from 2001 until today. 16 years of sharing whales and dolphins with you – read our stories PART I below. Soon more stories will follow! 🙂
ANTHI OIKONOMOU
Year: 2008
Function: Biologist guide
Memory: Working in Terra Azul was the best experience in my whole life and career! Since this career milestone that I think everyone should reach, my interest on the conservation of environment and the connection of it with tourism grew. I am really grateful for the opportunity that Terra Azul gave to me and I hope that I will come back to Azores to revive the memories as a tourist soon! Até já!
ARIANNA CECCHETTI
Years: 2009/ 2010/ 2011/ 2012/ 2017
Function: Biologist guide
Memory: I joined Terra Azul for the first time for just 1,5 month and later for the whole season. This means many hours spent at sea, many exciting sightings and lots of nice people willing to experience the ocean, often for the first time. One sighting I remember particularly is that of two juveniles and one calf sperm whales playing at the surface in a calm sea. Curiosity brought them close to the boat and we could hear their vocalizations. Witnessing a fun moment in the life of these fascinating creatures was definitely a plus.
BIANCA KRUMPOCK
Years: 2012/ 2013
Function: Guide
Memory:  There is not one best memory with Terrazul – there's on the one side the best job in the world, going out to the ocean every day and seeing these wonderful creatures never knowing what to expect and on the other side working with wonderful people – I have been working at TA for 2 seasons, and for that time TA was my family and I'm coming back every year since then for a visit and it still feels like coming home.
CATARINA FONSECA
Years: 2016/ 2017
Function: Biologist guide
Memory: Since I started working with cetaceans I wanted to come to the Azores. It's almost a crime to be a Portuguese marine biologist and never come here… Terra Azul was my opportunity to do that in the best way possible. It allowed me to be on the water every day with blue and fin whales, sperm whales, dolphins, and so many other different species. I have learned so much with my colleagues and our clients! It's truly been a fantastic experience!
There are so many great memories, it's hard to choose one that is particularly special… One that stands out was a "surprise" breaching sperm whale! Usually we have an idea of what we are going to see because Filipe, the lookout, tells us what to look for. This day was being a bit hard because all the animals were very quiet and Filipe suddenly couldn't see anything else. We started to search for more animals and everything was very quiet until suddenly, out of the blue (literally) a sperm whale breached next to the boat! It was absolutely amazing!
INES GOMES
Years: 2006/ 2007
Function: Biologist guide
Memory: Terra Azul spirit lives on in every one of us. Thank you for that!
JOCHEN SCHOBER

Years: 2004/ 2005/ 2006/ 2007
Function: Skipper
Memory: 2 little girls from German wishfoundation came Swimming with Dolphins as their last wish, and on that day the dolphins came closer then ever and they could almost touch them.
JONATHAN LEYS
Years: 2003/ 2005
Function: Biologist guide
Memory: Terrazul is a company I worked for in the best part of ocean I ever visited!! It is where I saw the largest variety of spieces of my life, and in one excursion I saw also the blue whale!!