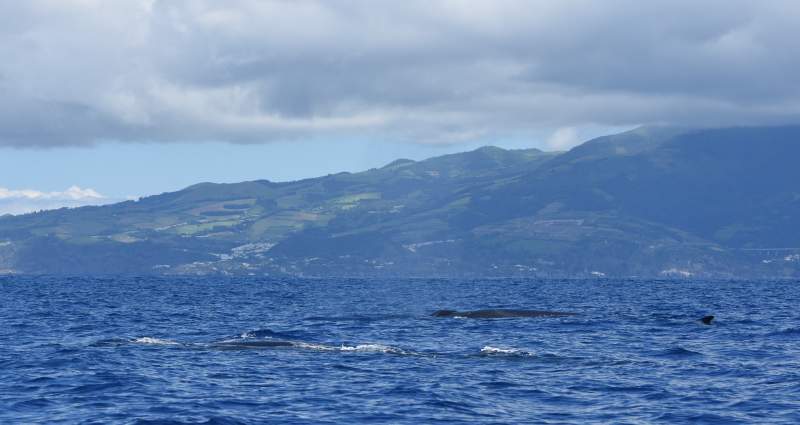 We started our day with a sunshine, blue sky, no wind and a flat sea 🙂 In general, it foretells a good day for sightings 😉
Sperm whales were around, we were at least with 4 individuals, easily recognizable from their breath directed to the left, resting for a while before to becoming shy and disappearing into the deep blue…
Not far from this group, we saw a huge and straight blow, announcing that we had another species around! Two fin whales, the second largest whales in the world, were resting and got very curious around our boat. We could see them swimming around us through the water and appearing slowly at the surface to give us time to admire them!
Common dolphins were also in the party! A lot of them, with calves, resting and socializing everywhere around the boat. They are so nice and beautiful… As sea conditions were very good, it was like in an aquarium but better 😀
At the same time, our second boat was doing an amazing swimming with Atlantic spotted dolphins and Common dolphins! After we left the marina the birds pointed the way. Soon the swimmers were able to observe them in the water and listen to their whistles. Their curiousity made the observation easy! During short travels a group of females with their calves showed up and the little ones seemed to be very young – maybe just a few weeks old. To respect the group we watched them only from the boat, but it was more than worth it 🙂
The afternoon kept the wildlife coming with an amazing sighting of 5 fin whales swimming very close together! Baleen whales, like the fin whales, usually travel alone or in pairs. It is not every day that we can see so many of them and quite curious as well!
To close the trip we also accompanied a Sperm whale mother and its calve calmly travelling and a playful group of Atlantic spotted dolphins 😀
Keep tuned for more news of our tours! 🙂