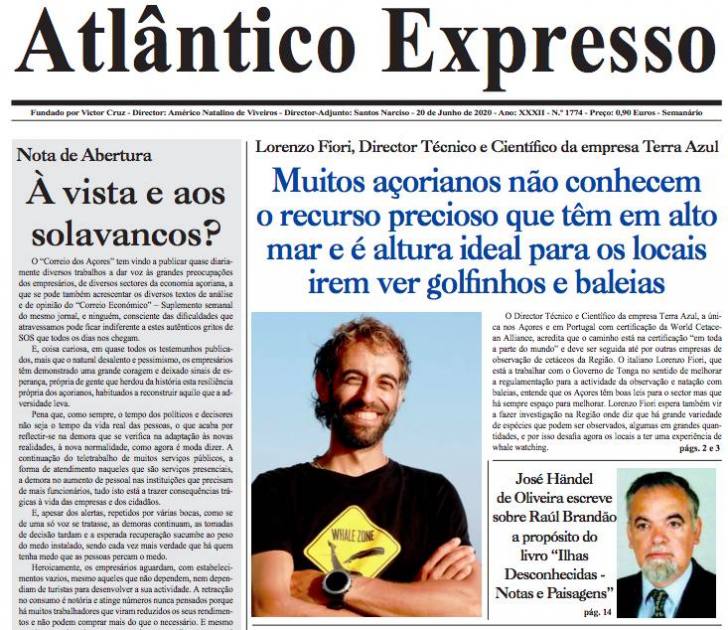 We are so proud of having our Technical &  Scientific Director  as well as Main Guide- "Lorenzo Fiori", being interviewed by journalist Carla Dias.
Lorenzo is a very experienced scientist regarding conservation of cetaceans with world wide experience. Because of his experience he is now working in one of the most special places there is to observe whales and dolphins : The Azores.
In the interview he explains how Terra Azul is the only company in Portugal holding the "Responsible Whales Watching Tour Operator " Certification granted by the World Cetacean Alliance (WCA).  In Terra Azul we believe that restrictions in Azores imposed by the government are very high being one of the reasons the Azores holds the international sustainability certification, but decided to obtain this certificate to insure our guest how serious the company regarding the conservation of marine mammals.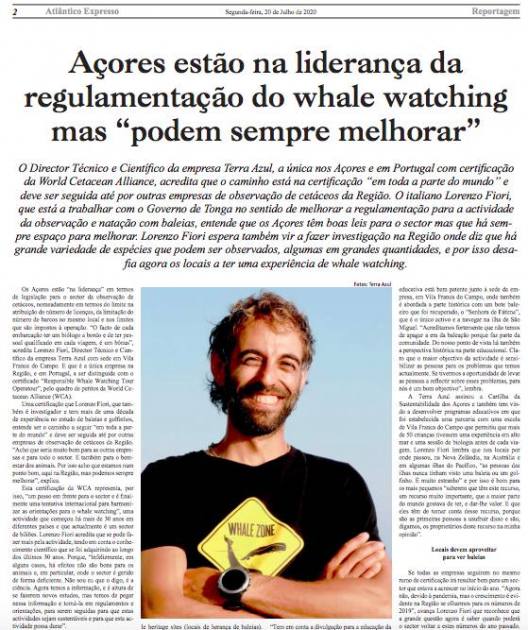 "In Terra Azul we believe strongly not only in the conservation of the animals but also in sustainable practices, educational values that include Azoreans and guest from all over the world"- Lorenzo, explains.
It is one of the company values to keep the Azorean heritage alive and to promote not only with people around the world the richness of the Azores but also of how important it is for locals to understand their island, their history and their fauna. Fauna that is truly unique.
Lorenzo has worked around the world in different scientific projects regarding cetaceans, he strongly believes that the Azores are a key point in the studies that can be made to learn more about our mammal friends.
He states in the article that he has never really encountered so many different species in one place and had one of the most incredible experiences here in the Azores.
The Company and our Scientific Director are excited to see how research and conservation can improve regarding cetaceans.
Nice job Team !