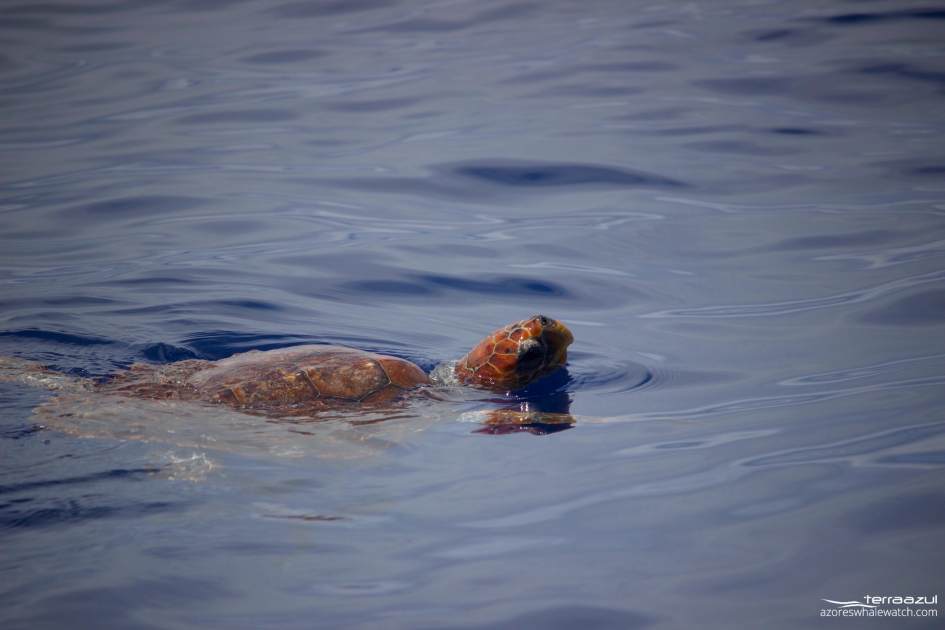 Dear whale & dolphin friends,
…as it should be in paradise, we got again really lucky today and could observe in the afternoon many different species …
Quite soon after leaving the harbor, we had a first encounter with a small group of the beautiful almost white Risso's dolphins. They showed us their dark grey tall and heavily scarred dorsal fins.
Further outside, we found two sperm whales in chill out mood. They were floating motionless at the surface. It seemed as they were taking a sunbath and getting a bit tanned, as they remained there for several minutes, ducking their body then for a few seconds under water and coming up again to expose their amazing brown-greyish bodies to us.
The next clash we had with a Loggerhead Turtle, showing us its light-brownish carapace. It was both impressing and sad at the same time. Getting closer to the turtle, we realized why the turtle was swimming in a slightly inclined position: the turtle lost her left front flipper… We assume that this resulted either from an attack of another animal or even of an accident with a boat or entanglement with a fishing net.
Already on our way back, we could observe then for a few minutes a smaller group of bottlenose dolphins travelling. Afterwards the never stopping striped dolphins showed us their acrobatic movements and breaching techniques. They allowed us to take some good pictures, posing and jumping in front of the camera.