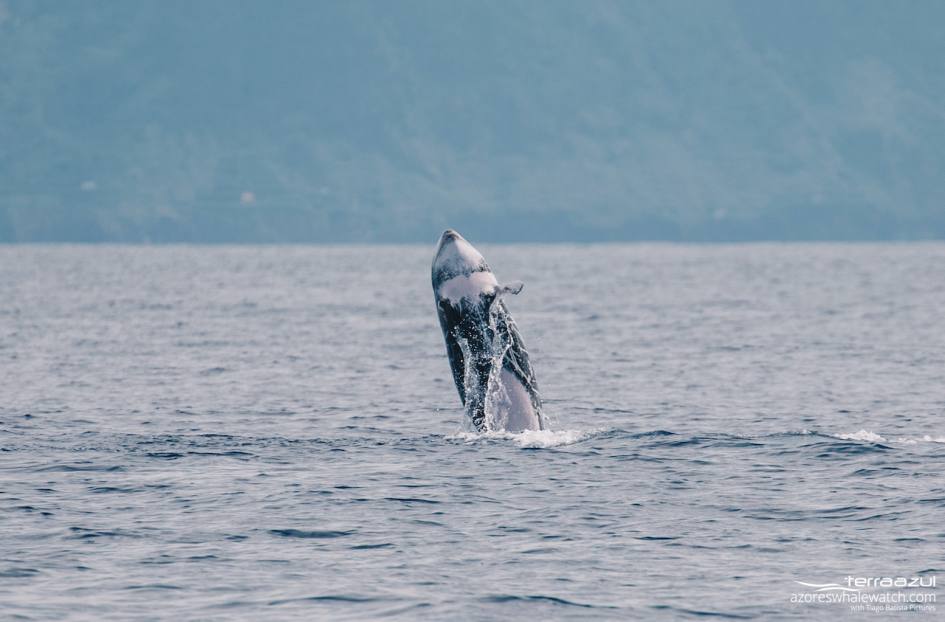 Weather in the Azores can be quite unpredictable but what we experienced in the last days is even beyond this definition! After some super hot days of Summer, we woke up with quite cold Northern winds, outstanding visibility to the South, rain spells travelling across land and ocean..in a few words, it looked like one of those beautiful Winter days!
And also the species that we encountered matched this atmosphere: All our 4 "resident" species were out there on the Atlantic Ocean today, together with Atlantic Spotted Dolphins (Stenella frontalis) that are going to be around for another few months. Our first sighting was a group of Bottlenose Dolphins (Tursiops truncatus), slowly travelling just outside of Vila Franca Marina.
After that we had to cruise several miles out to find a matriarchal pod of Sperm Whale (Physeter macrocephalus). A large female of the group went for a deep dive just in front of us and we could listen to her clicks while hunting squids.
In the afternoon, we also spotted some Risso's Dolphins (Grampus griseus) and Common Dolphins (Delphinus delphis).
Finally, it is worth to mention that we spotted our first Great Shearwater (Ardenna gravis) of the year. These birds are not nesting here in the Azores but they are on the way to their breeding sites in the South Atlantic. Another sign that Summer is almost over 😉