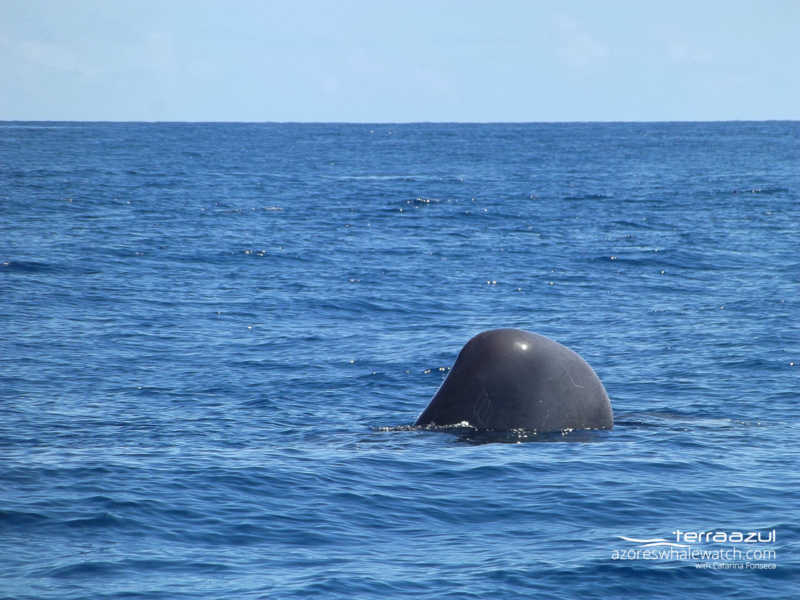 Today was such a nice day, the sun was shinning, the whale-watchers were excited, the sea was good. We went out in the afternoon to find a group of spotted dolphins Stenella frontalis. Never, will I get bored of the beauty and refreshing curiosity of these animals. The spectacle is every single time just mesmerising. Small calfs were in the pod and they are the cutest thing on this planet, always showing off, how high they can jump.
Phillipe our Vigia called us not long after, to indicate us the area where a sperm-whale blow was spotted. We went to the area thinking just one whale was underwater, we were starting to have our patience tested, when Nuno, our skipper spotted a blow, we found 4 sperm whales sleeping. There it was, in the middle of the Atlantic ocean, 4 sleeping whales. We were without words. I had never in my life seen sperm whales sleeping. sperm whales sleep vertically with their nostril out of the water (most of the time, can also stay under water, to sleep). They are one the most spectacular marine mammals to see and they hold the world record for the animal that sleeps the least amount of time during the day. They drift in the water or under the water for no more than 10-15minutes.
I am confident the nice group of people that were on the boat with me, will remember this moment for the rest of their lives, since so will I.