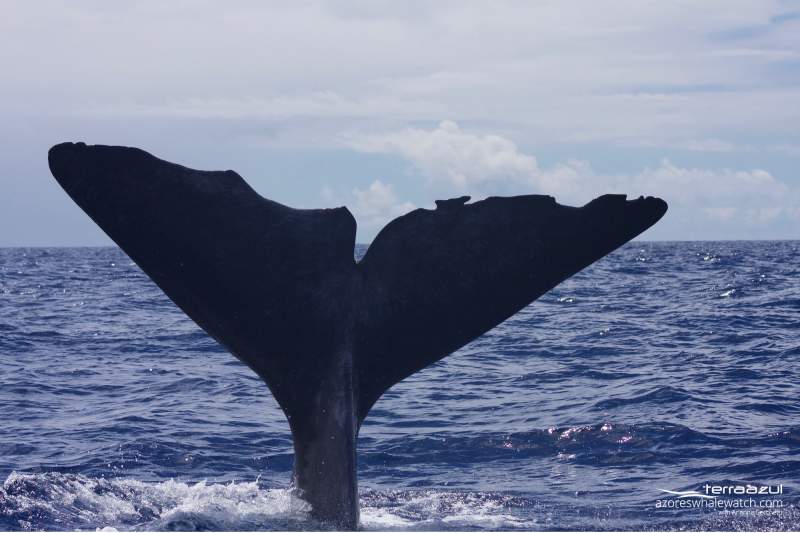 Today our tours were meant to be very special! 🙂
Accompanied by the sun we were heading out for the open ocean to find sea mammals near to our coast. But our first sighting was a flying fish –  suddenly they appeared at the surface and jumped out of the water, opening their "wings" and flew for a few meters.
Few minutes later we were able to observe a group of Common dolphins – the loyal beauties of the ocean. The group consisted of females and their calves. Even the very young ones gave it a try and surfaced next to their mothers.
As there was a lot of fish around, we could see the Atlantic spotted dolphins joining the Common dolphins. It seems, that they prefer the same bait and hunt together with Cory's Shearwaters and tuna.
Special sighting with the Atlantic spotted dolphins was a newborn, that was swimming next to our boat. It must have been only a few days old.
The Bottlenose dolphins fulfilled our tour as they were swimming calmly and showing their big robust body near to our boat.
Besides of attractive sea birds and mammals a loggerhead turtle was swimming very relaxed. Our dolphins swimmers also took a swim with the turtle, as it was right next to the Atlantic spotted dolphins. Our swimmings today consisted of big groups of mixed Common and Atlantic spotted dolphins. In the morning, 7 year young little Freya was a bit nervous to use her snorkel, but her tears soon turned into enthusiasm and she was unstoppable to go in the water time after time!
In the afternoon our lookout André was able to spot a sperm whale at about 6-7 miles from the coast. The difficult part was the fact that the sperm whale was staying mostly underwater and its blow was rather weak, so at the beginning we had hard time to find it. However, when we eventually found it, the encounter was simply amazing 🙂
The whale kept checking the two TA boats, swimming sideway and underneath them showing curiosity until eventually decided to show its tail. We then found another sperm whale not to far from the previous and it also showed its tail before a deep dive.
What an amazing day! Stay tuned for our new adventures 🙂