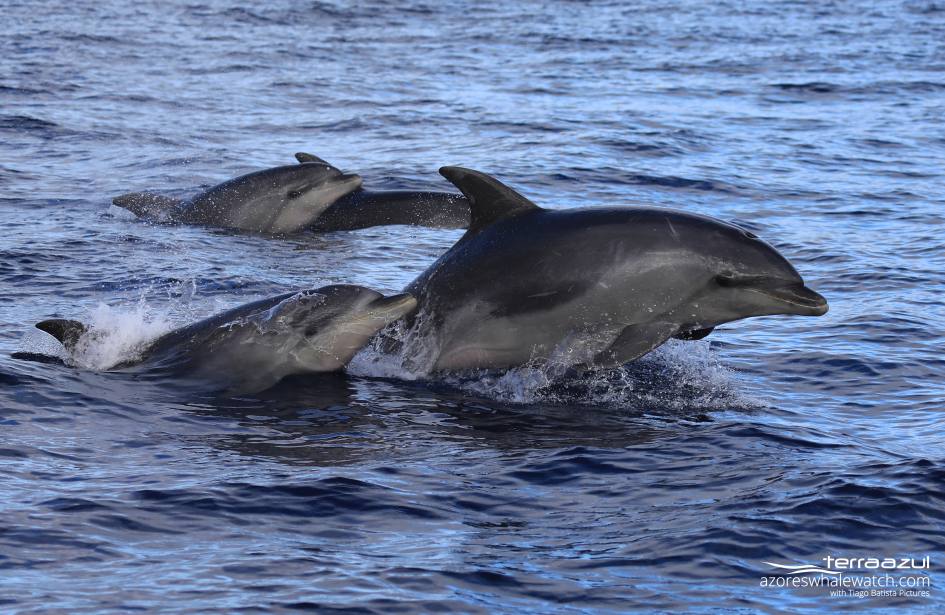 A pod of Bottlenose Dolphins (Tursiops truncatus) porpoises next to Terra Azul boat.
Bom dia whale-watchers!
Before to wish you the best for the festivities to come, it is time to recap what November brought to our crew and guests out on the Atlantic Ocean!
To start with, the month that has just gone will be remembered as one of the sunniest and warmest November in decades here in São Miguel Island. Our 'resident' species were sighted the most, but also migratory visitors such as Atlantic Spotted Dolphins (Stenella frontalis) and Sei Whales (Balaenoptera borealis) have been encountered in our waters.
Common Dolphins (Delphinus delphis) were sighted feeding in large numbers. With the Cory's Shearwaters (Calonectris borealis) now gone on their Southward migration, Yellow-legged Gulls (Larus michahellis) take advantage of the dolphin action during feeding frenzies in the winter months. Similarly, large groups of Great Shearwaters (Puffinus gravis) were encountered in association with Atlantic Spotted Dolphins. By December both these species will be heading towards their wintering grounds, in the Southern and Western Atlantic, respectively. Moreover, we witnessed the arrival of Madeiran Storm Petrels (Oceanodroma castro) that breeds on the Ilehu of Vila Franca do Campo.
Larger delphinids such as Risso's Dolphins (Grampus griseus) and Bottlenose Dolphins (Tursiops truncatus) were mostly sighted while cruising and socializing along our coastline. Several calves were recently spotted in a large group of offshore Bottlenose Dolphins and individuals looked in good body condition. We even found two adult dolphins in 'big' company around 15 miles offshore where a large aggregation of Sperm Whales (Physeter macrocephalus) was gathering. Sometimes Bottlenose Dolphins interact 'socially' with Sperm Whales but this behavior is still poorly understood. We also encountered several times a very well known Sperm Whale bull.
Finally, good news for our Blainville's Beaked Whales (Mesoplodon densirostris): a female was spotted with her calf after almost two months without sightings of this species! The mother looked quite thin and we hope the best for the next months in which she will have the hard task of sustain the calf growth and weaning process.
With our best wishes for Christmas and the coming year, to the next sightings' report! 🙂