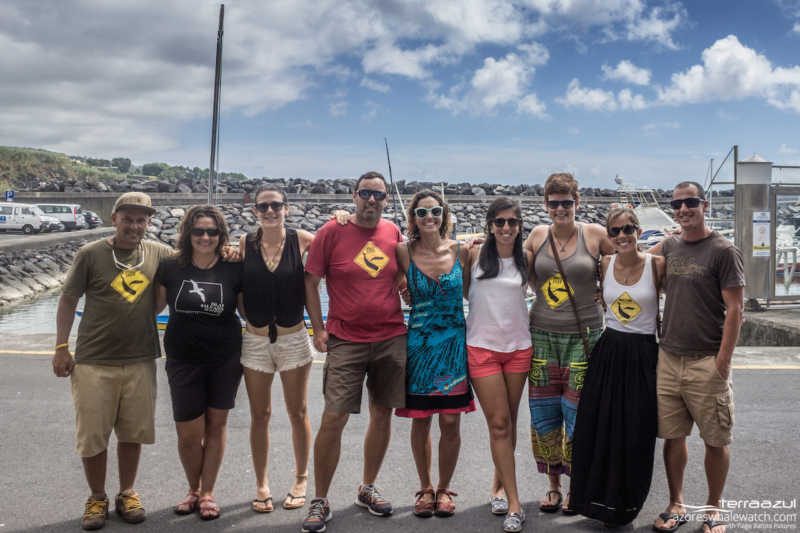 Jessica Camara Lopez
FIRST TERRA AZUL'S GUIDE / ON-BOARD MARINE BIOLOGIST
Some know exactly what I'm talking about… This girl is precious. We love her!
A good friend and former TA's collaborator, Jessica C. Lopez, returned her "família azul" in a short holiday travel.
Personally it was a great pleasure to meet her again after several years. She is living in our Atlantic neighbor archipelago: the Canary Islands.
It still in our deepest memory Jessica's vital contribution for Terra Azul's early start-up years on Azorean Tourist and the beginning of the Whale Watching industry in the island.
She joined our team as guide-marine biologist in 2003, together with João "Becas" Monteiro. At this point we had no Whale Watching Base or office. Reservations, welcome briefings and payments were made on the "car trunk", in the local marina still unfinished.
Only a solid Team's commitment, a great Love for Nature, along with a genuine empathy overwhelmed the deprived old times conditions.
But once at sea, clients enjoyed so much every single tour "discovering the wonderful world of whales and dolphins".
At that phase the job of our on-board marine biologist wasn't truly easy! Since tourists in Azores still were few to fill our first boat [You guys remember our brand-new BWA 7.40 powered with 2 outboards TOHATSU engines that collapsed under "uncertain causes" just two months after starting our operation?] we offered combined tours to watch whales including the possibility to swimming with dolphins if conditions were favorable. Fact: the Guide must always be ready to jump into the ocean to help whalewatchers on this exclusive eco-tour experience.
At the seasons maximum activity it was up more than 10 hours in the Ocean, several days during many weeks, sometimes with difficult weather conditions.
But clients always find careful and professional people with a huge welcome smile on the face "infecting" with their love for nature, educating tourists about Azorean marine wildlife.
These sentimental times are still recalled. The "gorgeous young Spanish girl" deserved everyone's consideration and friendship. From former clients that we keep in touch to old team colleagues and business partners they all have a positive memory about Jessica. Including me as the company's Manager was very much touched by their loyalty, positive energy, great character and Team's spirit.
Her extensive contribution wasn't limited as a Guide's role. In 2007, Terra Azul – azores whale watch accomplished an ambitious educational project, financed by EU funds and covering 1600 students from São Miguel.
During months, Jessica visit classrooms to endorse new ecological skills among teachers and students and guiding on-board "TERRAZUL" during unforgettable boat trips bringing new awareness about Nature and its threats by Human activity.
We knew at that time [as we know know!] that "no one can love what we do not understand". So, this «real living experience» makes a difference promoting nature's ecological values among local Community particularly. Taking those kids out to the Sea, offering them a unique educational experience is very important!
During her long collaboration with Terra Azul, we spent hours together sharing unforgettable moments with Guests on the Ocean, at the sun, wind and even rain, observing the astounding marine wildlife diversity, offshore Vila Franca. With Jessica [and other great Guides!] I got my knowledge about biology, ecology and conservation. I feel extremely reward.
Our countless discussions about how to the approach the animals to avoid unnecessary stress or what the future of Ecotourism in Azores or why whale watching is crucial for local education were some relevant topics that contributed to consolidate Terra Azul's grounds. These ideas and concepts still nowadays make our company socially and environmentally responsible unique!
Dear Jess thanks for your great friendship and generosity. This legacy stays in our collective memory and heart. I'm sure our lives will remain in common grounds for the long future rather it's in Azores, Canary Island or elsewhere. A big hug from all Terra Azul's Family!