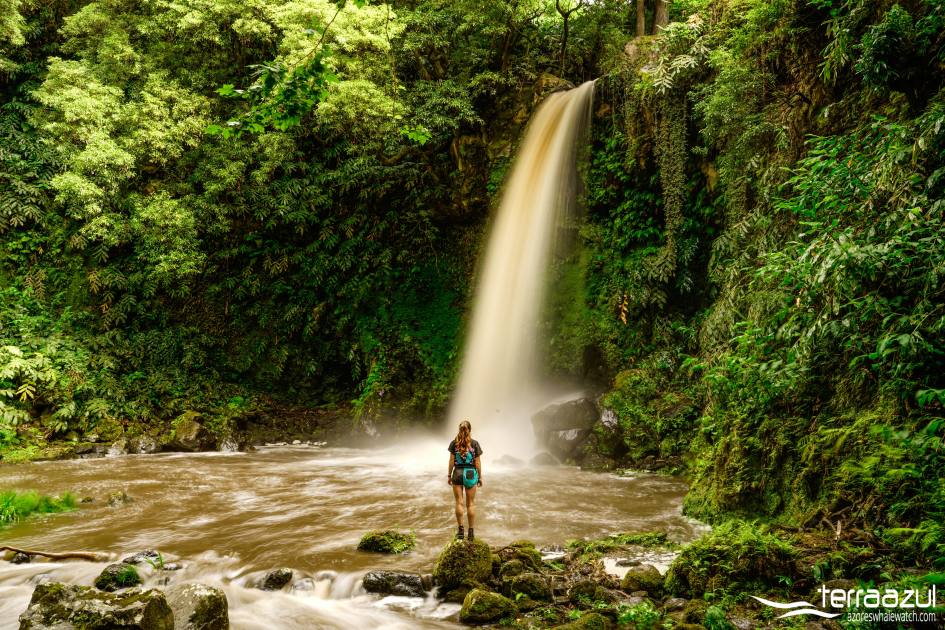 Trilho Moinho do Félix – Cascata do Téofilo by Paulina Kalita.
São Miguel Island is mostly known by its green landscapes, enchanting lagoons, thermal hotsprings and dark sand beaches. However, there are many places where you can admire beautiful waterfalls of crystalline or iron rich water. Mainly hidden in the forest, but also sometimes already right next to the road we can discover magical places.
If you're heading to São Miguel, make sure these waterfalls are on your itinerary:
Cascates de Trilho Moinho do Félix
Trilho Moinho do Félix is a beautiful hiking trail that starts and ends in the centre of the parish Lomba de São Pedro in Ribeira Grande. On this adventurous walk along the northcoast of the island you go through this flourishing wood and come across three astonishing waterfalls: Cascata do Homem, Cascata do Téofilo and Cascata da Gruta.
Salto do Prego
This majestic waterfall is located on the far southeast coast of the Island, at the small village Faial da Terra. You can approach this hidden place both through Sanguinho's and Salto do Prego's hiking trails. The water is very cold, offering the perfect refreshment after a hike through the forest.
Cascata do Segredo in Água D'Alto
To reach this mesmerizing place you have to start at the parking place of lugar da Praia (Trinta Reis) and follow along the houses. On the left side you will find the museum of Núcleo Museológico da Electricidade that shows the starting of the production and distribution of electric energy through renewable sources. Further on, walking straight you can follow an old pipe until you arrive to Poço dos Trinta Reis on your left side, and the waterfall Cascata do Segredo ahead. Don't forget to bring your bathing suit to this place. The fresh water is so clear, you want to jump in immediatly.
Cascata das Lombadas
This about 60 meters high waterfall is located in the Valley of Lombadas. When you follow the road to the valley there is one point where you have the view of the waterfall next to the road. Arrived down you can start to hike. It's not so easy to find this waterfall and the hike is quite adventurous. Who dares to take the challenge? 🙂