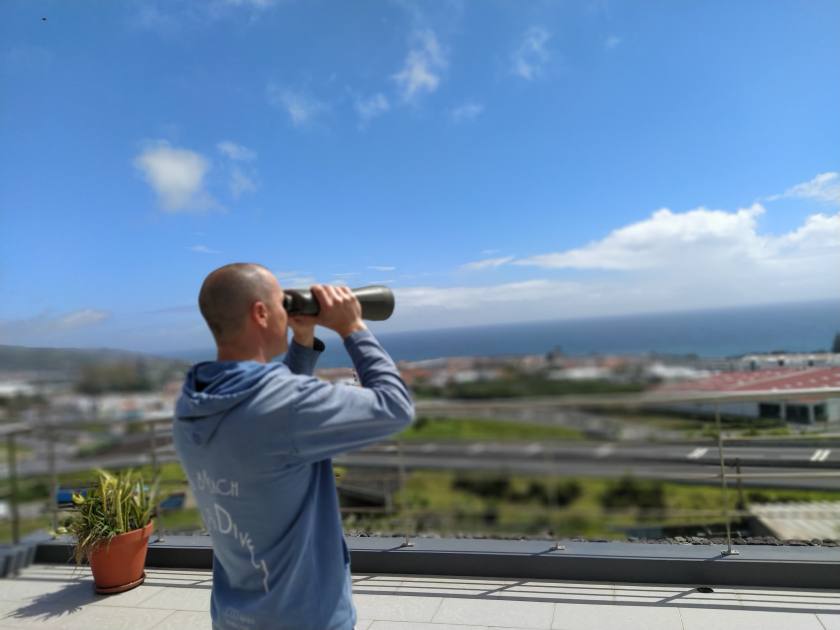 Being observant sounds easy,  but how good are our observational skills?
Great minds started by observing what surrounded them and then documented it, resulting in great scientific discoveries.
Darwin, Lamarck, Pasteur just to name a few, began their research by observing what surrounded them, paying attention to a leaf, a drop of water, the composition of seeds, the moon…
For many of us life passes quickly and we spend a little less time observing. Humans have been staring at the sea for generations and when doing so amazing scenes have unravelled.
In Hermanus, South Africa one can observe the Southern right whales from the coast, the same can occur in Kaikoura's coastline in New Zealand when Orcas and Dusky dolphins pass by. Many of these are examples of nature occurring right in front of our eyes.
Here in Villa Franca do Campo, a village close to the coastline many stories of residents narrate times when whales or dolphins were observed from the comfort of their balconies.
For year's Azoreans have had a special bond with the ocean since land is basically surrounded by water. Here in our beautiful village, if paying attention one can observe from Sperm whales, Baleen whales and dolphins a few miles out. With the naked eye one can observe from land with good visibility a range of  one and 1/2 miles out, with standard binoculars one can observe from 5 to 6 miles out.
Many of our guests have shared the experience with us about observing a whale jumping or dolphins when opening their Hotel windows or attentively looking at the different viewpoints of Villa Franca do Campo.
Of course it is a  matter of different factors like being at the right time and the right place. But it is always a possibility of seeing a whale or dolphin swimming close to coast.
Last year our crew encountered a Humpback whale  breaching next to the small islet in front of the Village. It was 5pm, and our crew was after work attending a safety course, and out of nowhere a massive Humpback whale breached. That day not only crew members but mothers, children and many of the villagers saw the whale.
So grab your Binoculars and start observing the different wonders nature has to offer!!!