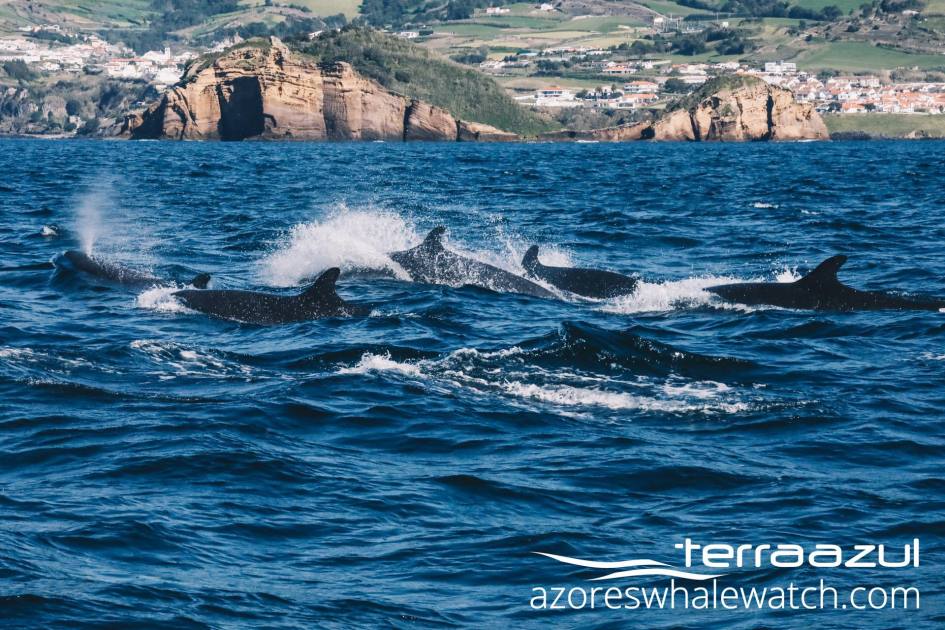 The magnificent sunny rays brought joy and with joy a black breeze accompanied the ocean Today.
What does this mean? How confusing is this title you may say…
Spring has arrived in São Miguel and despite what everyone sees in the cartoons; Bunnies, flowers and the sun do not come out instantly all at once 😉 .  Today was super sunny, slowly marking the arrival of summer days. A reason to be excited to go out to the ocean and explore as much as we can of the blue dessert, that we love so much.
We sighted a beautiful group of the resident Common Dolphins (Delphinus delphis) and just in sight as well a pod of one of the most impressive oceanic dolphins you could imagine, the False Killer Whales (Pseudorca crassidens). 
Sightings of these agil swimmers occur in the Azores a few times a year and when it happens "Oh Boy, We love it". Their slender bodies are almost completely black and their conical teeth and round shaped black eyes add to the description of why these animals are so exciting to sight, especially when so close to shore like today, if you look close to the picture below you can actually see our lovely town of Vila Franca do Campo and even our beloved islet of Vila Franca do Campo on the photo above.
The say in life things are not black or white LOL, but let me tell you today certainly was !
We can confidently make a Biologist joke about the fact of our second sighting, the resident Risso's dolphin (Grampus griseus) and if you don't know it already, these dolphins become with white with age because of their social interactions. Meaning scars appear on their bodies changing their grey coloration to a lighter tone. Hence a bit of Marine humor… 😉
Here is a picture of one adult that belongs to the species, so you can see it for yourself.
Our lovely guide Vanessa took all the sightings coordinates in order to share it on the observational cetacean monitoring data MONICET.
With Us no whales or dolphins sightings left un-entered  !!!
So today we can definitely agree that sometimes things can be Black or White 😉 !