Ahoi to all of you! 🙂
I would describe our morning tour today as wavy but worth it! I hope you enjoyed the sight of the large bottlenose dolphin pod as much as your guides and skipper did (we could not hold our excitement when they jumped next to us!). 🙂 They are large dolphins, up to 2,7m long and very curious and social. The latin name for these dolphins is Tursiops truncatus, this way you can easily find out their name in other languages and read more about this species and their behaviour.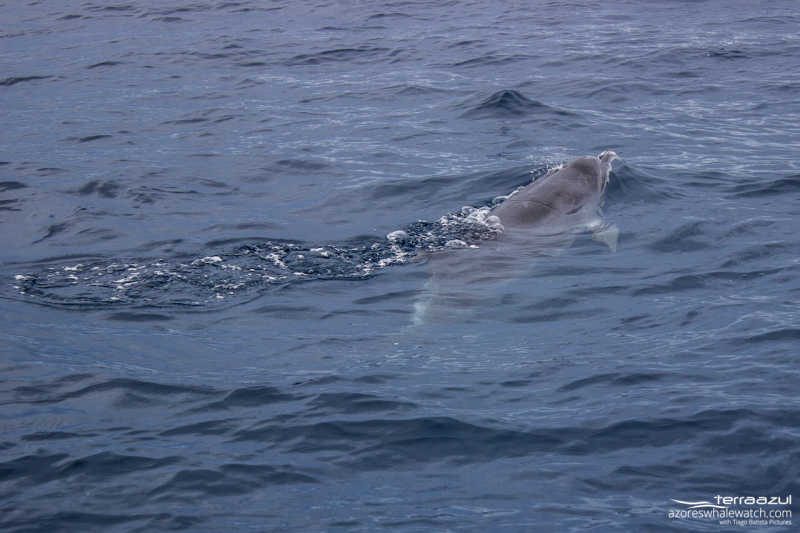 After around 20minutes with the bottlenose dolphins we cought our first bits of spraywater while driving towards a promising blow relatively close by. After a short time looking we could see the animal: a fin whale! To me personally one of the greatest things to happen out there on the water is when the animals decide themselves to come closer towards the boat. Exactly this happened today, when the fin whale we have been seeing a few times decided to turn left and dove just a few meters away from us! Such a great sighting!
As we want to enjoy the animals without disturbing them too much, we left the fin whale after ca. 30 minutes. We saw the bottlenose dolphins again and could also spot an individual called 'the Egyptian' by the skippers, because of its triangular shaped dorsal fin. But André, our lookout today, had other plans for us. The possibility of seeing Humpback whales made us very excited and we tried to be in the right area as quick as possible. Unfortunately the wind increased so it was quite wet for everyone, including the skipper. As we could not find the humpback whale, we followed the sight of another blow, which again was our friend, the fin whale. So it was really nice seeing both species twice!
Our salt crusts will luckly wash off but these moments stay with us!