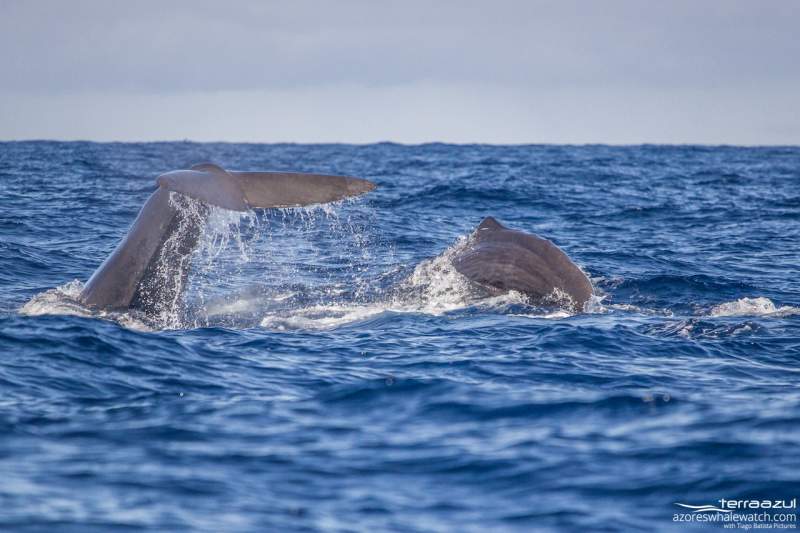 After a cloudy and rainy day yesterday, today the sun shined all day long 🙂 Soon, we were in the middle of the ocean surrounded by waves and some Cory's Shearwaters. Their presence is always a good sign as may mean dolphins are very near 🙂
A group of Common dolphins passed by and enjoyed the waves, saving energy as they were bow riding. This behaviour is also very enjoyable for us too, because we could observe very well their whole body while swimming in the ocean!
As Felipe, our lookout, spotted Sperm whales offshore, we headed out to see them. The whole trip over there was more than worth it! After a few times surfacing, the female sperm whale took a shallow dive with her juvenile. Just a bit later a sperm whale made a huge jump out of the ocean!!! What an amazing and incredible moment. It's breathtaking, when such a huge animal breaches – even the guides and skippers felt very blessed to see it! We were also able to observe a mother breastfeeding her baby, lovely moment… Such a great morning!
Our swimmers today swam with Common dolphins while they were resting, feeding and travelling all on different times of course. During the feeding many flying fish appeared to escape the predators under water 🙂
The afternoon was getting windy and the sea was rough, we managed to go far from the coast – more than 20 miles out – to try to see a sperm whale, without success… Our crew was brave because the sea was not easy. Fortunately, our best friends, the Common dolphins, were close to the coast, still enjoying waves like this morning. Playful crazy dolphins 😛
Hope to see you soon onboard with us!