Hi you out there! 🙂
While thinking of how to describe the beautiful moment we had this morning, the title came up easily. For a reason, because after we left the harbour this morning, our boats headed south towards a large (!) Cory's shearwater group.When these birds are circling close to the water surface this can be an indicator for a lot of life underneath. When our boats approached the birds, many flew up and I honestly think this was a very special moment. The water was absolutely flat and grey matching the grey clouds above – so the only thing we saw first where these hundrets and hundrets of birds surrounding us. When the first fins of bottlenose dolphins broke the surface it looked almost unreal.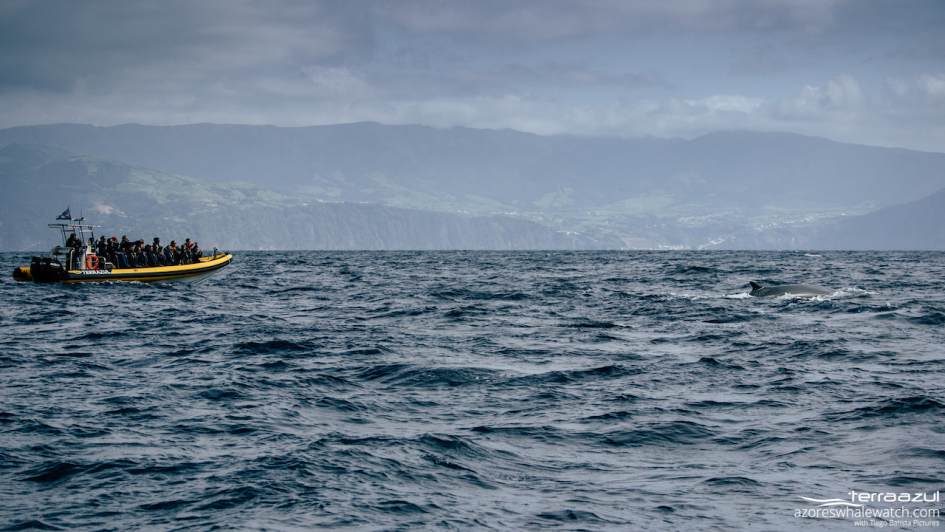 Balaenoptera physalus
We spend some time observing the group before heading towards the east-end of São Miguel, some eight miles off the coast. The ride took some time as the wind was increasing, but with a few individuals of dolphins next to our boats and the sight of some Portuguese Man-o-war time flew. While approaching the area where our lookout saw whales we could already see the blows of some individuals. We did not have to wait at all – when we arrived three Fin whales where already there, ready to show us their blowholes, bodys and fins. And not just once! All three came up multiple times and at least one of them was a calf. So pretty! We all definitely enjoyed the sight of this family. Even the wind decreased, making our time out on the ocean extra comfortable.
On our way back we had the chance to compare the bottlenose dolphins we saw earlier to the common dolphins appearing now: their yellow-grey sides are stunning and are making it easy to see the slender bodies under the surface.
I came back to the harbour with a happy smile on my face and I hope everyone enjoyed as much as I did 🙂 Yay for the life in the ocean!