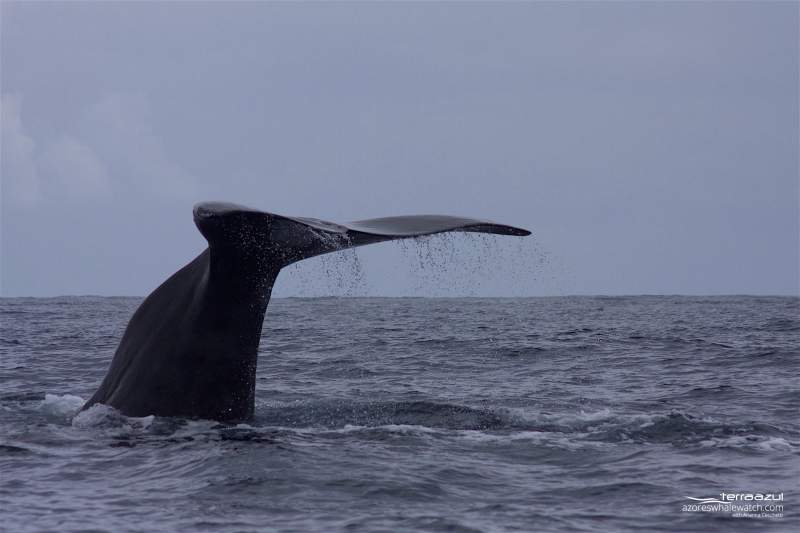 Today the south coast of São Miguel was once again the scene for a perfect whale watching tour, with rainbows included!
Just off Ponta Garça, where our lookouts Filipe and André operate, the sperm whales were having their breakfasts. At least six individuals were diving one after the other within short distance among each others. Since there were many, it was difficult to choose and eventually we decided to wait for the ones we saw taking a deep dive from distance. While waiting, a piece of squid appeared floating at the surface, a confirmation that feeding was occurring several hundred metres down the surface. It is always fascinating imaging these whales moving in the darkness to catch their prey.
In the meantime, we were also swimming with bottlenose dolphins!! They were still around from yesterday, a huge group with a lot of juveniles 🙂 Massive dolphins got curious around our swimmers 😀
In the afternoon the sea surface was still teeming with life! We started our tour heading towards the spotted dolphins, but when in the area all of the sudden a Sperm whale appeared in front of us, and was very close to them. Our crew got excited hihi! It was not only one individual but many of them, just like in the morning, and taking a deep dive one after the other.
As Atlantic spotted dolphins were just nearby, we went to visit them during their busy lunch time, with a lot of Cory's shearwaters around.. of course 😛  During the later afternoon the spotted dolphins were still around in large numbers, porpoising and foraging. In the past few days it seems like the South coast of São Miguel has been occupied by these active dolphins. However, our resident common dolphins were also around and were fast like torpedos. It was almost impossible to see them as they were cutting the surface with their dorsal fins at high speed.
Another special encounter on the sea today was.. a devil ray! They are still around, so remember to keep your eyes open during our tours 😉